FG rolls out measures to tackle shortage of midwives in Nigeria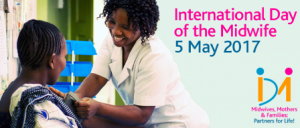 The Minister of Health, Prof Isaac Adewole, on Tuesday rolled out measures aimed at addressing the  shortage of skilled and certified midwives in Nigerian hospitals saying the nation's appalling health indices would be reversed when there are adequate skilled manpower, especially midwives,
Speaking at the commemoration of this year International Day of the Midwife (IDM), organized by National Association of Nigerian Nurses and Midwives (NANNM) in collaboration with United Nations Population Fund, UNFPA, the minister said he had directed the leadership of the Nigerian Nursing and Midwifery Council to ensure that midwives who switch to teaching are well-remunerated.
Also, he pledged to ensure that all tertiary institutions that had lost accreditation of midwifery in the country have the programme restored.
The minister described midwives as strong pillars of the nation's health system and  warned schools of midwifery against charging exorbitant fees as tuition.
"If we are charging, say for example, over N200,000 as tuition for studying midwifery, that will discourage our children from becoming midwives," he said.
He noted that the population of the country, which he said is estimated at 184 million was much more than available health workforce.
"Until recently, records from the Nursing and Midwifery Council of Nigeria indicated that there were around 240,000 qualified nurses and midwives within the country…According to a projection estimates from scientific modeling by Adebayo et al in 2016, Nigeria will need approximately 149,852 doctors and 471,353 nurses by the year 2030.
"With the available growth rate of doctors/nurses by this same period only 99,120 doctors and 333,494 nurses will be available. This implies a shortage of about 50,120 doctors and 137,859 nurses. This translates to 33.45% gap in doctors' supply and 29.25% gap in nurses' supply. This shortfall will make the country health system vulnerable if there is no urgent and concrete plan to address the situation."
He however decried the disparity in the geographical spread of the midwives and the entire health workforce in the country, saying  50 percent of them are located in the South-West region of the country. The challenges nonetheless, Adewole promised to ensure midwives work in well-equipped facilities, enjoy good remunerations and other welfare packages, while fresh graduates will be promptly absorbed into health facilities by government.
According to him, this year's IDM, which has the theme "Strengthening Midwifery Pre-service Training in Nigeria" fits into Federal Government Agenda of upgrading the standard of midwifery practice in the country in area of curriculum review, appropriate skill development and upgrade of the various training institutions.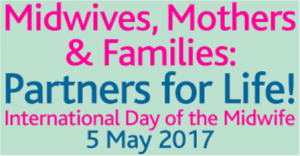 He explained that human resource remains one of the most critical elements of any functioning healthcare institution. "A knowledgeable, skilled and motivated health workforce is an important catalyst for achieving a virile health system and Universal Health Coverage. Any government that is desirous of a formidable human resource will need to pay serious attention to pre-service training. This will involve regular curriculum review, provision of necessary infrastructure and funding."
He provided grim figures of health conditions in the country at the event, which had members of NANNM from all parts of the country. He said: "Nigeria has aprojected population of about 184 million (NPC2015) and 64% of the population lives in the rural areas while the remaining 36% lives in urban areas. About 70% of the population is under the age of 30 years while those under 15 years make up 44% and 5% are pregnant women. According to 2013 NDHS, the health indicators showed Maternal mortality ratio of 576/100,000 live births, Infant mortality rate, 69/1000 live births, Under 5 mortality rate, 128/1000 live births and Neonatal mortality rate of  39/1000.
"The life expectancy at birth has marginally increased from 51 years in 1991 to 52.3 years in 2012. The Contraceptive Prevalence Rate for modern methods remains low at 10%, Unmet need for contraception 16%, Total Fertility Rate 5.5%  and Annual Population Growth Rate of 3.2% (NPC,2006). With these health indices, Nigeria is the second largest contributor to under-five mortality rate (U5MR) and Maternal Mortality Ratio (MMR) in the world.
"The main causes of these maternal deaths in Nigeria according to ICF MACRO & NPoPC 2013 are identified as follows: haemorrhage (24%), infection (15%), unsafe abortion (13%), obstructed labour (8%), toxaemia/eclampsia/hypertension (12%), indirect causes (20%), and other direct causes (8%). Others, including HIV/AIDS, contribute to about five per cent of all maternal deaths.
"Although many of these deaths are preventable, the coverage and quality of health care services in Nigeria is not adequate towards meeting our set targets. For every maternal death at least seven newborn die and further four babies are stillborn. Hence, measures aimed at reducing maternal mortality and improved women health will also invariably improve newborn health and reduce neonatal mortality.  It is also estimated that for every maternal death, at least 30 women suffer short to long-term disabilities such as obstetric fistulas (OF)"
Adewole maintained that there was overwhelming evidence that lack of manpower at the primary healthcare facilities accounted for most of the appalling statistics the country parades.
In his remarks, Executive Director, UNFPA, Prof Babatunde Osotimehin, said the agency would continue to offer necessary support to NANNM, and other midwives globally.
Represented by Deputy Representative in Nigeria, Dr Eugene Kongnyuy, Osotimehin said: "UNFPA celebrates the life-saving work that midwives do every day, often in very trying circumstances. Thanks to midwives, millions of women all over the world are able to exercise their rights to sexual and reproductive health services, including voluntary family planning.
"These services ensure wanted, healthy pregnancies and childbirth. Yet, far too many women lack access to these services. As a result, here in Nigeria, more than 83,000 women die during pregnancy and child birth. Most of them would have been saved by well-trained midwives within the framework of strong health care services. UNFPA strongly supports the training and work of midwives.
"In Nigeria, UNFPA has worked to support 25 midwifery schools, educating more than 700 midwives. UNFPA supported midwifery gap analysis and the development of current National Strategic Plan to strengthen midwifery in Nigeria. We have also strengthened the National Midwifery Association, and we were instrumental to the admittance of the Nigerian midwives association to the International Confederation of Midwives, ICM.
"UNFPA has provided support in many areas including the enhancement of the regulated framework for midwifery training and ensure accountability. And, we are a strong partner in the midwife service scheme implemented by the National Primary Health Care Development Agency. UNFPA is currently working on a capacity building project leveraging on the nursing and midwifery continuing professional development programme.
"In line with this year's theme of International Day of the Midwives, strengthening midwifery preservice training, UNFPA has identified three midwifery schools in the country that will service as flagship for developing them into centres of excellence for midwifery pre-service training. UNFPA will rehabilitate the three schools, build capacity of students, equip these schools with teaching and learning materials, books, anatomical models, equipment and upgrade the schools laboratories.
"The returns on investing in human resources with midwifery skills are enormous. According to the State of the World Midwifery Report (2014) midwives who are educated and regulated into national standards can provide 87 percent of essential aids needed by women and newborns, and can potentially reduce maternal and newborn mortality by two/thirds. Preventing maternal and newborn deaths and disabilities, empowering women make informed choices and exercise their rights are key to achieving Sustainable Development Goals by 2030.
"To make this happen, we need to expand midwifery programme, maintain the highest global standard, and promote enabling environment for midwives to effectively meet the needs of women and their families. Today, UNFPA renews its commitment to supporting the government of Nigeria and development partners to promote the work of midwives so that more women survive and their families and communities thrive."
No fewer than 21 Pharmacies, Patent Medicine shops and unlicensed premises at Alakuko, Ajegunle, Ologogoro, Ijaiye, Abule-Egba, Agbado and Agege in Alimosho, Ifako-Ijaiye and Agege  Local Government areas of Lagos
Separate UN report reveals another 1.9 million babies were tragically stillborn during same period An estimated 5 million children died before their fifth birthday and another 2.1 million children and
Say women are largest culprits in child abuse The Federal Capital Territory Administration, FCTA, through the Administration's Social Development Secretariat, and the National Agency for Prohibition of Trafficking in Persons,