Doctor, implant contraceptive has changed my menses pattern, am I in danger?
Dear Doctor,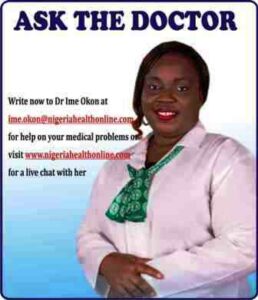 I'm 38 and a mother of two. I'm separated but I have a boy friend.  Two months ago, I went to the health centre to replace my in-plant.  I thought the procedure was successful until I had my period. The flow was very heavy and I bled for almost two weeks instead of the normal five days. I had to go back to the health centre but got no explanation for the heavy flow and prolonged bleeding. However, they gave me some tablets and the period eventually stopped. I saw my period earlier than normal this month and the flow was heavy again, accompanied with the usual severe menstrual pain. It stopped after ten days. I had sex with my boyfriend after the ten days and since then, I've been spotting. Doctor, I'm worried. What could be the problem? Has it anything to do with the insert or is it the sex? What is the remedy?
Linda, Kaduna
Dr. Okon says:
Dear Linda,
It's great to read from you…
Since you said you went for a re-insertion, I would have loved to know, how long you have been using implants and your experience during this period.
Let's talk about implants briefly:
Contraceptive implants are thin, small, flexible rods which are implanted under the skin of the upper arm to prevent a lady from getting pregnant.
It usually has to be done by a trained healrhcare worker and it's 99% effective in the prevention of pregnancy.
The implant rods contain progestins  which are like the natural hormone progesterone, and these are steadily released into the woman's bloodstream.
This continuous release of progestins stops a woman releasing an egg every month (ovulation), and thickens the mucus from the cervix (neck of the womb), making it difficult for sperm to pass through to the womb and reach an unfertilized egg.
The effect of implants against pregnancy is almost immediately after proper insertion. Depending on the type of implant, (some have only one implant, some have 2 rods) they last between 3-5 years, but can be removed at any time. Fertility returns shortly after the implant is removed.
Some women experience side effects from implants. Changes in menstrual bleeding patterns (it could be heavy and prolonged bleeds or stoppage of monthly bleeding), abdominal pain, headaches, breast tenderness and acne are some of the side effects. Side-effects often diminish over time, especially after the first few months to a year of use.
Back to the irregular bleeding you complained of:
Changes in menstrual bleeding commonly occur with implant use, but some women do not experience any change at all.. Typically, changes in bleeding patterns are more dramatic during the first year of use and either lessen or stop after the first year. Prolonged or heavy bleeding (lasting over eight days or generating double the quantity of flow could be normal) due to implants generally is not harmful. Menstruation may also cease after one or two years of implant use, which is not harmful either—blood will not build up inside the woman.
However, it is best to consult with your gynaecologist to rule out other causes of irregular menstrual bleeding.
Best wishes and keep us posted of your progress and well being.
Ime
Mother of triplets narrates experience ABUJA – To say life has been very difficult for Gloria Ndoka and her family is an understatement. Things have been made worse for
The ongoing trial of Mr. Martins Ugwu, for an alleged impersonation of a medical doctor has been stalled by his absence in court. Mr. Ugwu, who is being prosecuted by
By DEO  AKINBO,  Abuja The Federal Government has re-affirmed its commitment towards eradication of measles in Nigeria by year 2020. Minister of Health, Prof. Isaac Adewole, made this statement