Medical Feat: Woman, 68, delivers twins at LUTH
The Lagos University Teaching Hospital (LUTH) today, Sunday April 19, announced that it has successfully delivered a 68-year-old first time mother of twins.
In a statement by Prof. Wasiu Adeyemo, the hospital's Chairman, Medical Advisory Committee (CMAC), the  Nigerian woman has become the oldest new mother of a child in Africa.
The hospital said the primigravida (pregnant for the first time) woman was delivered of a baby boy and a baby girl following an in-vitro fertilisation (IVF) conception.
"The IVF & embryo transfer were done at an outside facility. She was thereafter referred to LUTH at early gestation and subsequently managed till term. This is the first in LUTH, Nigeria and Africa!
"Mother & babies are well," the statement said.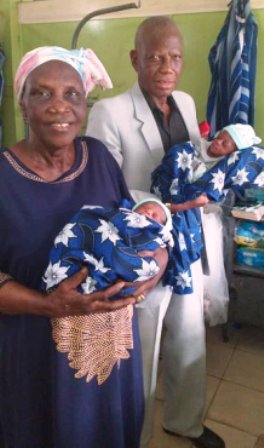 The new parents
as COVID-19 hinders access to family planning in  midst of knockdown A Reproductive Health expert has predicted that Nigeria will begin to see unplanned COVID-19 babies from November 2020. As
The Federal Government through the Office of the Senior Special Assistant to the President on Sustainable Development Goals, OSSAP-SDGs has unveiled a series of interventions at the permanent site of Nnamdi
Khartoum — The plight of medicine supply in Sudan has worsened as competent authorities fail to provide vital drugs and prices have increased, sometimes by up to 100 percent, over