NTDs: Nigeria ranks 17 in mass treatment coverage index
66.6 million people received treatment in 2016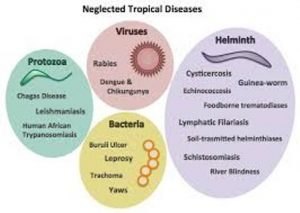 A scorecard by the African Leaders Malaria Alliance (ALMA) showed that Nigeria had mass treatment coverage index of 48 per cent for Neglected Tropical Diseases (NTDs) in 2016, ranking it 17 out of 47 countries.
The countries include Swaziland, Malawi, Burkina Faso, Sierra Leone, Togo, Ghana, Cote d'Ivoire, Uganda, Liberia, Cabo Verde, Benin, Cameroon, Madagascar, Ethiopia, Zambia, Guinea, Nigeria, Democratic Republic of Congo, Senegal, Tanzania, Zimbabwe, Kenya and Mali.
Others are Central African Republic, Eritrea, Sudan, Mozambique, Burundi, Congo, Chad, The Gambia, Angola, Djibouti, Rwanda, South Africa, South Sudan, Botswana, Gabon, Guinea-Bissau, Namibia, Niger, Comoros, Equitorial Guinea, Lesotho, Mauritania, Sao Tome and Principe and Somalia.
NTDS are a mixture of treatable and preventable diseases that place heavy burden on over one billion people on the planet. They include lymphatic filariasis (commonly known as elephantiasis), onchocerciasis (known as river blindness), schistosomiasis (known as snail fever and bilharzia), soil-transmitted helminthes, trachoma (commonly known as ophthalmia or granular conjunctivitis) and guinea worm among others.
The ALMA, for the first time in its annual scorecard on disease progress had added NTDs in its presentation at the 30th African Union Heads of State Summit held in Addis Ababa, Ethiopia, on Sunday.
The scorecard, which is reviewed by African heads of state every year, put NTDs alongside malaria and maternal and child health as top health priorities for the continent.
A statement by Uniting to Combat Neglected Tropical Diseases, said that the index reported progress on the five most common NTDs including lymphatic filariasis, onchocerciasis, schistosomiasis, soil-transmitted helminths and trachoma.
"Developed by the World Health Organisation in collaboration with Uniting to Combat NTDs, this index reports progress for the 47 NTD-affected countries in sub-Saharan Africa.
"It reports their strategies to treat and prevent the five most common NTDs which are lymphatic filariasis, onchocerciasis, schistosomiasis, soil-transmitted helminths and trachoma.
"By adding NTDs to the scorecard, African leaders are making a public commitment to hold themselves accountable for progress on these diseases,'' the statement said.
The statement quoted Hailemariam Desalegn, Prime Minister of Ethiopia, as saying, "Improving the health, education and productivity of our poorest citizens by eliminating NTDs can put Africa on the path to prosperity and universal health coverage.
"I urge my fellow African leaders to build on the progress already made and increase their efforts to tackle NTDs to make them a subject for much concerted effort and action at the African Union,'' Desalegn said.
Also, Thoko Elphick-Pooley, Director, Uniting to Combat NTDs Support Centre, said, "Beating NTDs is essential for Africa's economic development.
"When it comes to diseases that affect the very poorest and most marginalised communities, it is up to political leaders to make them a priority.
"We are thrilled that African Heads of State will be reviewing their progress every year and holding themselves accountable for equitable health outcomes,'' said Elphick-Pooley.
The News Agency of Nigeria reports that for Nigeria, the scorecard showed treatment coverage for lymphatic filariasis to be 54 per cent and onchocerciasis to be at 67 per cent. Schistosomiasis treatment coverage was 57 per cent , Soil-transmitted Helminthes (StH) 33 per cent and trachoma 37 per cent.
For lymphatic filariasis, treatment coverage increased from 50 per cent in 2015 to 54 per cent in 2016; people needing treatment are 123.3 million and people receiving treatment are 66.6 million.
Onchocerciasis treatment coverage decreased from 74 per cent in 2015 to 67 per cent in 2016; people needing treatment were 53.1 million while people receiving treatment were 35.4m. For schistosomiasis , treatment coverage increased from 44 per cent in 2015 to 57 per cent in 2016; the number of school –aged children needing treatment are 16.4m while 9.38m are receiving treatment.
The scorecard showed that treatment coverage for Soil-transmitted helminthes decreased from 50 per cent in 2015 to 33 per cent in 2016. Pre-school and school aged children needing treatment are 45.7m and those receiving treatment are 15.2m.
Trachoma index showed that treatment coverage increased from 0 per cent in 2015 to 37 per cent in 2016; people needing treatment were 21.8m as against 7.98m that are receiving treatment. Over all, while 66.6 million people received treatment for NTDs in Nigeria in 2016, 62.4 million people in need did not receive treatment. (NAN)
The Federal Government yesterday January 28, gave an update on the Lassa fever epidemic currently spreading in many parts of the country. Speaking at a press conference, Dr. Osagie Ehanire,
Women who experience complications during pregnancy may be at greater risk of dying from heart disease later in life than women with uncomplicated pregnancies, according to new research in the
as Sanofi  Summit ends Experts at the one-day Diabetes Summit organized by Sanofi Aventis, a global biopharmaceutical healthcare company focused on human health on Wednesday October 17, have advocated a