UNODC launches new Nigeria Handbook on counter-terrorism investigations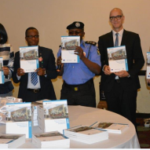 The United Nations Office on Drugs and Crime (UNODC), working in conjunction with the European Union and the Nigeria Police Force  on Friday, November 15, launched a new Handbook on Counter-Terrorism Investigations developed exclusively for Nigerian investigators working in the counter-terrorism arena.
Boko Haram and the Islamic State in West Africa Province have embraced a wide range of indiscriminate terrorist tactics, including car bombings, suicide vest attacks, kidnappings, stand-off attacks, and close quarter assaults. Targets have included military bases, busy markets and shopping centers, government offices, traffic stops, schools, places of worship, and funerals. Almost 75% of these attacks have impacted civilians. More than 37,000 people have been killed.
Each terrorist incident poses unique and significant challenges to the law enforcement and security professionals charged both with finding the individuals responsible, along with those who supported and directed them, and also with the weighty responsibility of trying to prevent the next attack.
The new Nigeria Handbook on Counter-Terrorism Investigations is designed to help Nigerian investigators to develop the skills and approaches necessary to ensure that evidence left behind at crime scenes is recovered and analyzed, that investigative leads are effectively identified and pursued, and that potential intelligence opportunities are leveraged and exploited.
In his Foreword to the Handbook, Inspector General of Police Muhammed A. Adamu welcomed the launch of Handbook and thanked UNODC for its contribution to Nigeria's struggle against terrorism: "The multi-faceted challenges posed by 21st century terrorist organizations require the adoption of innovative new approaches both on the frontline and in cyberspace. As terrorism evolves, so must we… This Handbook is a demonstration of continuous and sustained UNODC support towards strengthening the Nigeria Police Force."
Mr. Oliver Stolpe, UNODC Country Representative to Nigeria, echoed the IG's comments: "By combining sound foundational principles with the latest advances in forensic science and investigative best practice, we hope that this Handbook will become an indispensable aid for police trainers working across the country, and help a new generation of Nigerian counter-terrorism investigators to hold offenders to account and deliver justice to their victims."
The production of the Handbook on Counter-Terrorism Investigations was fully funded by the European Union as part of the longstanding EU-Nigeria-UNODC-CTED Partnership Project to support Nigeria to strengthen criminal justice measures for preventing and countering terrorism and violent extremism.
Ambassador Ketil Karlsen, Head of the European Union Delegation to Nigeria, emphasized the important role of that law enforcement can play in combating terrorism: "The EU is supporting the fight against terrorism and violent extremism in Nigeria in a comprehensive and multifaceted way.
A key focus is on backing Nigerian-led initiatives that strengthen criminal justice responses to terrorism. The Nigerian Handbook on Counter-Terrorism Investigations, developed with top international expertise from UNODC, will no doubt help conducting more coherent and valid investigations."
19m Nigerians affected The World Health Organisation (WHO) says no fewer than 91 million Africans are currently living with hepatitis, with around 125,000 hepatitis-related deaths occurring in Africa. In
Wife of Ekiti State Governor, Dr. Olayemi Oyebanji has reiterated the commitment of the state government to put an end to infant mortality and boost the care of babies in
Nigerian Government has restated its determination to engage traditional leaders to promote vaccination and boost the nation's primary health care system. At a meeting of leadership of National Primary Health