My exercises are not working, I need to lose weight
Prof Useh: FITT will help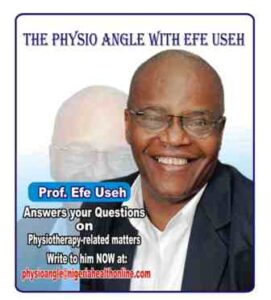 Dear Prof,
My exercises are not helping me. I am a 54-year-old Human Resource practitioner. I want to lose some weight. I have been on a self-designed and managed exercise programme for about two years with no significant weight loss.   My weight has hovered around 95 kg for over three years, which I was told was too much for my height and body frame. I've been advised to see a dietician in addition to exercising. Please help.
Tamuno,  Port Harcourt
Dear Tamuno,
Let's start from the beginning. It's important to know why you want to commence with an exercise programme. A lot of us do this to lose weight which is often difficult to achieve without a purposefully designed individualized dietary regime.  Exercise alone cannot burn all the calories and fat at our desired rate.  I will suggest that you consult a nutritionist for a dietary programme. While you are at it, I will suggest you limit or completely do away with sugar in your beverages and limit your starch and carbohydrate intake. Try staying away from sugar, bread and pies for one week and check your weight.
The next very important reason to engage in an exercise programme is to keep and remain fit. To achieve this purpose, I will suggest that you consult a physiotherapist with a good knowledge of exercise prescription to design a programme for you. The exercise plan follows a certain principle with an acronym FITT,  used as  guide for the amount of exercises and the type that will be ideal for you. In simple terms, FITT can be likened to dosing an exercise programme.
The F stands for Frequency of exercise, that is, how often should these exercises be performed in a week. The ideal frequency to attain the maximum and the desired effect is between three to five times a week. Anything less will achieve nothing and more might also not be of many benefits. The I in the FITT principle stands for Intensity. I call this the exercise gauge, that is, how much exercises can the body system tolerate. This is measured by the ability of your heart and lung to cope with the nature and type of your exercise. To gauge the intensity, your target heart rate is usually calculated based on your age with a formula or formulae so that an appropriate intensity is determined for you. Tamuno, in your case your intensity shall be 220 minus your age, and then multiply this by 70 or 80 percent depending on other factors like the presence or absence of comorbidities such as hypertension, diabetes mellitus, etc.  
The first T in the FITT principle stands for Type of exercise that you are engaged in. The type or nature of exercises is also very important. This must be planned to increase your body's endurance (the capacity of your muscles to withstand prolonged tasks or exertion) and strength (the ability of your muscle to carry out a short and high-intense task at a short period. Warm-ups and cool-down exercises should also be incorporated into your exercise programme.
The last T in the FITT principle stands for Duration of time for which you should exercise per exercise programme. The prescribed time or duration is usually between 30 and 45 minutes to one hour. You can progressively increase this over time. Tamuno, if you have been exercising consistently for 30 minutes for several weeks, months, or years, it's time to increase the intensity and start pushing yourself. As you work out more and more, your body adapts and becomes more efficient at doing that certain activity.
This means that over time, the 30-minute workout that was challenging for you three months ago would not provide the same results. You're burning fewer calories and your body is no longer changing if you're still doing the same old thing. Anything less will not produce any effect. The time allocation is usually, 10 minutes for warmup (this is to prepare the body for the bigger or main tasks), 35-40 minutes for the main exercises and the last 10 minutes for your cool down.
The cool-down phase of your exercise is also very important to ensure that your heart rates and blood pressure slowly return to your pre-exercise status, that is, the heart rate and blood pressure before you started the exercise programme.
I hope with this guide you will soon notice some weight loss.
Best Wishes 
Dr Biodun Ogungbo is a Consultant Neurosurgeon and Director, Stroke Action Nigeria. He currently practices at Lifebridge Diagnostic Centre, Abuja. A passionate crusader against stroke, Ogungbo says incident of stroke
SPONSORED POST Truthware Solutions, a telecommunications access enabler has initiated an innovative means of making healthcare accessible to Nigerians by fostering integration between AXA Mansard and Airtel Nigeria, to launch
As the world pursues the attainment of Sustainable Development Goals, (SDGs),  the United Nations Population Fund, UNFPA, has called on nations to expand their midwifery schemes to help in achieving