Why Nigeria can't ban tobacco – Health Minister
Set to implement Tobacco Control Laws

More Nigerian women now  smoke
ABUJA –  The Minister of Health, Prof. Isaac Adewole, Wednesday, explained the reason Nigeria could not ban tobacco – the crop used for cigarette – despite its adverse health effects on not only users but others known as secondary users.
Speaking at a media briefing to commemorate this year's World No Tobacco Day, Adewole said the rights of persons who use tobacco had been a key factor considered by government.
Apart from this, the Minister said no country in the world had banned tobacco, despite growing opposition against it.
He said though Nigerian government had consistently been worried over health hazards constituted by tobacco, prominent organisations such as the World Health Organisation  (WHO), had emphasised the need to keep increasing tax of the product as a strategy to discourage users from buying it.
He said nations such as Thailand use economic gains from tobacco to finance its health systems.
Earlier in a message on Tuesday, Dr Matshidiso Moeti, Regional Director for the WHO Regional Office for Africa urged nations to increase measures that would result in reduction of tobacco, worldwide.
She  said tobacco "kills more than 7.2 million people yearly", worldwide, with over 80 percent of the deaths from low-income countries.
Worse still, Prof. Adewole also revealed that more women are now joining the smokers' group.
"According to Nigeria's 2012 Global Adult Tobacco Survey (GATS) over 20 billion sticks of cigarettes are consumed in Nigeria annually, and 5.6% adults (4.5 million) currently use tobacco products out of which 4.1 million are men and 0.5 million women.
"In addition, 29.3%  of adults (6.4 million) are exposed to second-hand tobacco smoke when visiting restaurants, hotels and other public settings. Of the adults surveyed, 82.4% believe that smoking causes serious illness. Recent study among University Students in Abuja, alarmingly shows that 33.3% of the students are current smokers," the minister said.
Adewole admitted yesterday that tobacco control could help break the cycle of poverty, contribute to ending hunger, promote sustainable agriculture and economic growth, and combat climate change.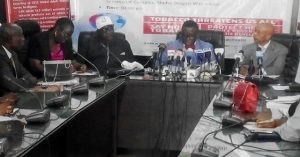 He furthered that increasing taxes and levies on tobacco products could reduce its consumption and generate revenue which could be used to finance universal health coverage and other developmental health programs.
He argued that tobacco remains the only legal drug that kills many of its users when used exactly as intended by manufacturers.
The minister however assured that while tobacco could still be in the Nigerian markets, the Federal Government would be implementing the Tobacco Control Laws.
"Having carefully analysed the NTC Act 2015, I wish to announce with high sense of responsibility that government will begin implementing the following provisions before the end of this year; prohibition of sale of tobacco products to and by anyone below 18; ban of sale of cigarettes in single sticks; cigarettes must be sold in packs of 20 sticks only; smokeless tobacco shall be sold in a minimum of a pack of 30 grams."
Others are ban of sale or offer for sale or distribution of tobacco or tobacco products through mail, internet or other online devices; prohibition of interference of tobacco industry in public health and related issues; prohibition of smoking in anywhere on the premises of a child care facility, educational facility, and health care facility. Other prohibited places for smoking, according to the minister, include playgrounds, amusement parks, plazas, public parks, stadium, public transports, restaurants, bars, or other public gathering spaces.
"Government will also begin the prosecution of owner or manager of any of the places listed above, who permits, encourages or fails to stop smoking in the above-listed places. Federal Government will also prohibit tobacco advertising, promotion and sponsorship of any kind. The government will also ensure compliance with specified standard for content as set out by Standards Organisation of Nigeria," Adewole furthered.
The Minister noted that this year commemoration,  with the theme:  'Tobacco a threat to Development', sought to highlight the links between the use of tobacco products, tobacco control and sustainable development; to take proactive measures to include tobacco control in Nigeria's national responses to 2030 Sustainable Development Agenda; to call for efficient synergy between the governments and civil society organisations in order to combat tobacco industry interference in political processes that will lead to stronger national tobacco control action, among others.
Nigeria has received nearly 4 million doses of the COVID-19 vaccine, shipped via the COVAX Facility, a partnership between CEPI, Gavi, UNICEF and WHO.   The vaccines arrived at the
… speaks at Agbami STEM symposium Former minister of communication technology, Dr. Omobola Johnson, has advised the federal government to invest in Science, Technology, Engineering and Mathematics, STEM, to end economic
A Health Communication Expert, Ms Kemi Olawoye, has called on Nigerians to cultivate the attitude of regular medical checkup in order to take charge of their health. Olawoye, the Chief