Help! My son, 6, can't sit without support
He will need physiotherapy and other treatments  – Prof Useh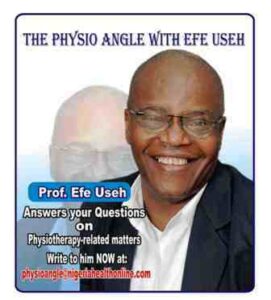 Dear Prof,
I have a three-year-old son who is unable to sit without support. He is my third child and the labour was quite prolonged during his delivery. Initially, my husband and I thought he was just slow at developing but now we are very concerned the case could be more serious. Prof, what do you think? Do you think we need to see a physiotherapist? Please help.
Ronke, Lagos
Dear Ronke,
All parents expect that their babies should develop and grow normally after birth. Usually, the normal developmental milestone of children is that at 5 months babies should begin to sit, while they begin to stand and walk between the ages of 7 and 13 months.  So, it is normal to be concerned or worried as you must have compared your son's development with his other siblings and age mates.
Your son obviously has Cerebral Palsy (CP). This condition can affect the whole body or be limited to one or two legs and hands, or one side of the body. Generally, signs and symptoms of CP include difficulty with movement and coordination, speech and eating, development, and other problems. CP affects movement and muscle tone or/ and the ability to maintain posture. This is caused by damage that occurs to the immature, developing brain, most often before birth.
CP has been reported as a very common motor (muscle) affecting disability in childhood. It is estimated that 1 to nearly 4 per 1,000 live births or per 1,000 children has been diagnosed with CP. Some researchers also report that about 1 in 345 children has been identified with CP. This is higher for children born preterm or at low birth weight. Most parents observe and immediately report the following signs: developmental delays, the child is slow to reach milestones such as rolling over, sitting, crawling, and walking, abnormal muscle tone, body parts are floppy or too stiff and abnormal posture. The good news is that early intervention with physiotherapy could assist.
As you have rightly observed, your prolonged labour might have caused some damage to the brain to the child's before he was born. The brain during prolonged labour might have been devoid of the required oxygen for good health. It is also possible that there might have been pressure on his very fragile skull before birth or during childbirth which might have deprived the brain of oxygen.  The damage caused now can only be noticed during the developmental stage of infancy or much later.
Generally, cerebral palsy causes problems with the movement of the muscles of the neck, trunk, hands, and legs. The individual with CP presents with exaggerated reflexes, floppiness or spasticity of the limbs and trunk, unusual posture, involuntary movements, unsteady walking, or some combination of these, depending on the part of the brain that was damaged before birth. The delay in the ability to roll, sit and even stand are common functional delays and impairments. Persons with cerebral palsy could also have problems with swallowing and difficulty focusing on their eyes.
The cause of CP and its effect on function vary greatly from person to person. Some people with cerebral palsy can walk; others need assistance. Some people have intellectual disabilities, but others do not. Epilepsy, blindness, or deafness also might be present. CP is a lifelong disorder. There is no cure, but treatments can help improve function. Your son will be able to live as close to normal independent life as possible. There are people living with CP who are graduates and professionals today because of appropriate and early interventions so your son can still live a normal life, depending on appropriate care and support. The signs of CP could also include stiff muscles and exaggerated reflexes (spasticity), the most common movement disorders, speech affectation, delayed development such as sitting up or crawling, learning difficulties, intellectual disabilities, and delayed growth, resulting in a smaller size than other children would be expected.
Physiotherapy can assist in muscle stimulation, function, and the rehabilitation of your son. Treatment will include stimulation of head and neck control and rolling exercises. Physiotherapists and the Occupational Therapists will also assist with the provision of splints (external supports) to discourage unnecessary muscle action. A minimum of five treatment sessions per week is recommended. The first session should focus on head and neck control exercises. This will be followed by trunk stability exercises including rolling. He will now be taught how to sit, stand, and walk.
The role of the family and support is very important. Please work with the rehabilitation professionals – Physiotherapists, Orthotists and Prosthetists. The Occupational Therapists will also assist with the provision of splints (external supports) to discourage unnecessary muscle action.
Best of luck.
Efe Useh
Workers who feel emotionally attached to and identify with their work have better psychological well-being, reports a study in the November Journal of Occupational and Environmental Medicine, official publication of
Training of Healthcare workers in Owo Ondo State. Photo: NCDC The Minister of Health, Prof. Isaac Adewole, today, May 10, announced the end of the emergency phase of the 2018
Edo State government has launched a new campaign plan to boost immunity against COVID-19 in the state. Launching the campaign tagged "Scales 3.0 Strategy for accelerating COVID-19 Vaccination,"  at Ugbor