Doctor says I've arthritis of knee because I'm obese, will exercise help?
Dear Prof,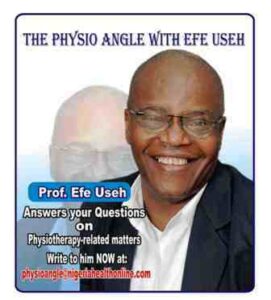 I am a 42-year-old female office administrator with a manufacturing company in Abeokuta. I have been suffering from knee pains in both knees for about two years. I consulted a physician and a physiotherapist last year in June and was told I need to lose some weight because I was considered obese and that I might have Arthritis of the Knees. Can I still exercise? What should I do?
Funke, Abeokuta
Dear Funke,
We all suffer from pains at one time or the other. Arthritis of the knees which is commonly referred to as osteoarthritis affects most people from the age of 40. Factors from overuse of our knees to the previous history of trauma (for example falls, and accidents) could be predisposing factors to arthritis of the knees. We can either have one or both knees affected.
Funke, obesity could be a predisposing factor to arthritis of the knees. Your health practitioners are correct to have suggested a weight reduction programme for you because you also mentioned that you are obese. I will like to know how this was measured because Body Mass Index or BMI is not a very good measure of obesity. This is because this measure is affected by body types. The question is what weight reduction programme was suggested? And how would you ensure that this is effective and sustainable?   You will have to have a team of nutritionists, physicians, physiotherapists, exercise practitioners, and sometimes a psychologist to assist you with your programme. Exercises or exercising are usually prescribed as medications to ensure that, they would achieve their desired effect.  You will need a set of exercise plans or exercise prescriptions or specific plans of fitness-related activities that are designed for a specified purpose, which is often developed by a fitness or rehabilitation specialist.
We all have specific and unique needs and interests;therefore, the goal of exercise prescription is the successful integration of exercise principles and behavioural techniques that would motivate you to achieve your desired effect.
Exercising should not be one-off but long term to achieve its desired effect. This must also be regular. Regular exercise is important for general health and well-being. For this reason, healthcare providers should provide you with an exercise prescription and not just tell you to exercise. You need to get an exercise prescription from a physiotherapist to increase the safety and efficiency of your programme.
Your exercise should be designed specifically for your health status, goals, abilities, and interests. A general exercise prescription will consider the principles of conditioning and include the following basics. Type of exercise or activity (eg, walking, swimming, cycling), specific workloads (walking speed) duration and frequency of the activity or exercise session, and intensity guidelines. Exercise prescription includes the type, intensity, duration, frequency, and progression of physical activity. These five components will assist you.
Funke, providing individualized exercise prescriptions can greatly improve the fitness of your heart and protect you from worsening your arthritis. The goal of an exercise prescription is to change your behaviour from sedentary to active because as an office administrator your work is classified as sedentary, seating for a long time at work.
The total dose or amount of exercise is determined by the three components of activity: frequency, duration, and intensity. Frequency is commonly expressed in sessions, episodes, or bouts per day or per week. Duration is the length of time for each bout of any specific activity.
Exercise is crucial for many people with arthritis. It increases strength and flexibility, reduces joint pain, and helps combat fatigue. Of course, when stiff and painful joints are already bogging you down, the thought of walking around the block or swimming a few laps might seem overwhelming. Please start slowly and progress through your exercises as you improve.
Best wishes
World Health Organization, WHO, has cleared the way for Brazil's hosting of this year Olympic games, hence putting an end to earlier fears the games might be cancelled or shifted
The Medical and Dental Council of Nigeria (MDCN) on Wednesday inducted 160 medical students of the College of Medicine, University of Lagos, into the medical profession. The event which took
as COVID-19 hinders access to family planning in  midst of knockdown A Reproductive Health expert has predicted that Nigeria will begin to see unplanned COVID-19 babies from November 2020. As