EU donates COVID-19 Personal Protective Equipment to drug treatment centres
Implemented through UNODC's "Response to Drugs and Related Organised Crime" project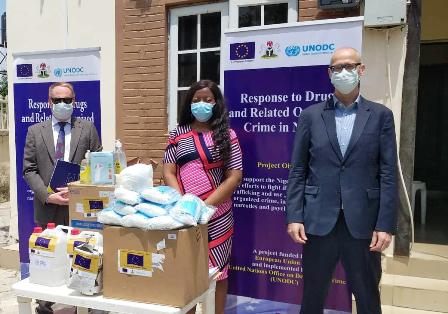 L- R: Kurt Cornelis, Head of Cooperation, EU Delegation to Nigeria and ECOWAS; Ifeanyi Okechukwu, Executive Director, YouthRise and Oliver Stolpe, Representative of UNODC in  Nigeria at the event.
ABUJA – The EU, through UNODC, has scaled up its ongoing support to ensure access to treatment services by drug users in the face of the ongoing COVID-19 lockdowns and restrictions, with the donation of personal protective equipment and other supplies to 25 drug treatment centres in Nigeria.
Representatives of EU and UNODC delivered the equipment and supplies on Tuesday, 12 May 2020, to YouthRise, a non-governmental organization providing community-based treatment services to female drug users in the Federal Capital Territory, Abuja.
The donation is to support COVID-19 prevention among drug users in Nigeria. It includes disposable facemasks, disposable gloves, hand sanitizers, handwash liquid, and infrared thermometers.
Also included are information, education and communication (IEC) materials in English, Yoruba, Igbo, Hausa and Pidgin English, that provide information on protective measures against the virus and contact details of DrugHelpNet, the network of drug treatment service providers offering tele-health services to drug users.
The Nigeria Drug Use Survey estimates that there are over 14.3 million drug users in Nigeria, over 3 million of whom are high-risk users with some drug use disorder. Drug users face a particularly high-risk for COVID-19 infection with the current movement restrictions, which has the potential to trigger increases in drug use and worsen underlying health conditions.
This donation is expected to ensure that drug users, and service providers, are protected andeducated about COVID-19and can continue to access treatment services in a safe and secure environment.With the DrugHelpNet contacts drug users will be able to access services even if they cannot visit the treatment centres.
The 25 treatment centres receiving the supplies have been part of EU's Response to Drugs and Related Organised Crime in Nigeria and include the 11 model federal drug treatment and training centres, non-governmental organizations (NGOs) providing community-based treatment services and public and private treatment centres that are part of the DrugHelpNet.
During the handover Kurt Cornelis, Head of Cooperation from the EU delegation to Nigeria and ECOWAS said "In line with other COVID-19 related support to Nigeria, the EU, through its implementing partner UNODC has adopted frontline and specialist interventions that can respond to the needs of those with substance use disorders who may experience limited access to health and elevated health risks. He further mentioned that "Ensuring service continuity for drug users and safety for service providers remains a big priority under our EU-Nigeria cooperation on drugs and related organized crime."
Oliver Stolpe, Representative of the UNODC in Nigeria, while thanking the EU for their support, mentioned the importance of energizing the civil society and health networks supported by UNODC in responding to the COVID-19 in Nigeria. He emphasized that UNODC is committed to "leaving no one behind" and that the UNODC is working on a range on interventions and partnerships to reach the most vulnerable populations.
Receiving the supplies, the Executive Director of Youth RISE, Ifeanyi Okechukwu expressed appreciation for the timely donation of personal protective equipment, IEC materials and provision of DrugHelpNet service in line with COVID-19 Emergency response from EU through UNODC Nigeria.
"This will help raise awareness, improve counselling and support services as well as curb the spread of corona virus in our communities and among our frontline workers during the lockdown," She noted.
The Global Fund to fight HIV/AIDS, Tuberculosis and Malaria (GFATM) has suspended its HIV and Malaria disbursement in Nigeria over failure to meet target especially in areas such as antiretroviral
Describes  Bauchi Governor's order for use of Chloroquine and Zithromax as improper and unethical The Nigeria Medical Association (NMA), on Friday May 1, spoke against the decision of the Federal
says women aged 15–49 twice likely to be living with HIV than men Lately, it appears that there's less mention of HIV on the lips and programs of government authorities