For adolescents, a shoulder to lean on
as SFH 'A 360' project provides them with skills, health information and facts of life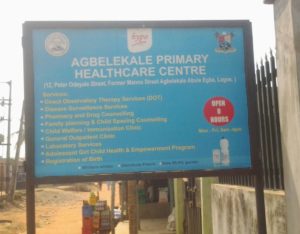 Sixteen year old Shade (not real name) got the beating of her life the day she slept over at a friend's place. She had gone to a church programme with other friends and enjoyed herself so much that she forgot to look at the time. It was at the end of the programme that she realized she had stayed beyond her mother's 7pm deadline to be home. Fearing mum's tongue lashing and slaps, she decided to pass the night with her classmate and friend, a girl well known to mummy. It was a great mistake.
Her uncle did not even allow her to enter the house as she returned in the morning. At first, he whipped her non -stop with his belt but seeing that this was not paining her enough he began to use his fist. Mummy came out and in support to rain abuses on her.
No one was prepared to listen to Shade's explanation of where and why she spent the night. All hell was let loose as a crowd soon gathered, laughing and jeering at her. Not done with the humiliation, mummy dragged her to the nearby family planning clinic at Agbelekale Primary Healthcare Centre, Alimosho, demanding to know if she is still a virgin.
Shocked health workers had to treat the girl first of the wounds the uncle had inflicted on her. They were not amused by the beating and trauma Shade had gone through and they told the now sobered mother she could end up in jail for the abuse.
Soon, Shade joined the 9ja Girls, a programme supported by the Society For Family Health (SFH) under its Adolescent 360 Project, which is run at the centre.  9ja Girls helps girls aged 15 to 19 to learn skills for life, love and health.
For the first time in her life, Shade found a listening ear. Provider/Counselor, Peace Anya was all ears as she listened to her patiently, not judging or rebuking her, gently prodding her on as she narrated her ordeal and how she ended up sleeping at her friend's house.  She didn't realize she was even telling Aunty Peace what she would never have told anyone.  Yes she's a virgin, but she has been approached by boys on a few occasions "to do it" and she had refused.
Her mother was invited again and this time she was counselled about the need to relate better with her daughter and talk to her in a way that she (daughter)   will want to discuss sensitive issues at home.
Shade is not alone. Several girls aged 15 to 19 in Alimosho and environs at the Alimosho  Local Government Area, Lagos State, have found a shoulder to lean on in 9ja Girls.  Here, they freely discuss their personal and intimate issue without any form of judgment or rebuke. They are exposed to the facts of life, about their health, love issues and skills designed to make them financially dependent in future.
It's an experience the girls were willing to share as newsmen visited them to observe their talk and skill sessions.
Elizabeth Joseph 16, plans to be a journalist in future. But that will just be a profession she will practice after her tertiary education.  The skills she acquired at 9ja Girls is already bringing her fame. She even designed a pair of slippers for the Baale's  wife.  The Baale is the traditional ruler in the community. But Elizabeth is not only good in shoe making, she now has a label for her brand of soap, thanks to her mum.
"Sometimes, I buy my own books," she told the reporters proudly.
"That's not all I've learnt from 9ja Girls," she added. "I'm health conscious now, I understand my body . I've also learnt that it is quite normal for a girl to like the opposite sex but no one can force you to do whatever you don't want to do."
"9ja Girls!!!"  Excited Solape Odutoye, 16 called out the 9ja girls salutation before recounting her accomplishments.
"I'm awake!!!" her colleagues chorused. That was the air of camaraderie at the centre as the girls engaged in their discussions and skills acquisition programmes.
Solape told how her mum was so pleased with the beads she made that she snapped the pictures and started marketing to her (mother's) friends and neighbours.  Mother and daughter are in business. There were also Temitope, Grace and others so glad to show off their skills.
And they can talk freely about their feelings too. Suliyat, 15, was not scared or bashful to talk to the elderly reporter: "Boys are not enemies. They can be friends. We can be nice to them and don't have to be harsh. But I've learnt to say 'No' about anything I don't want.
"I know about sex but I'm not ready for that now. I've learnt that I need to control myself until I get married.  That's what I also tell my friends."
Our girls are more focused now 
Provider/Counsellor Peace Anya says between  15-20 girls visit the centre on a daily basis while no fewer than 30, all members of 9ja girls, come in for health talks and skills acquisition.
"9ja girls is for girls aged 15 to 19, basically, we talk to them about skills for life, relationships, skills for health – menstrual health, what it takes to be a girl growing up etc.  We teach them to be dependent and not rely on people especially, the opposite sex.
"They can always come to me and talk about things that bother them, about their education and career, and they bring their friend too."
Peace further told the reporter that the centre also caters for adolescents girls who are already sexually active. There's the story of a young undergraduate who once got pregnant and had to abort. To avoid another pregnancy and knowing she couldn't abstain from sex, she walked to the centre and asked for advice. She was placed on a contraceptive with the approval and consent of her mother.
"There's a tremendous impact in this environment," says Mrs Isiolaotan Olubanke, Principal Nursing Officer, Agbelekale PHC. Teenage pregnancy  and abortions have reduced. You see girls generating income for themselves  and youth now come to access Family Planning methods and they are counseled properly.
"Those who are sexually active are given contraceptives to safeguard their future. Of course, those aged 18 and 19 are given consent forms duly signed by parents while those in the lower age must come with their parents."
Gradually the programme is being embraced by parents. Some mothers were seen at the centre during the visit either waiting to be counselled or just to wait for their daughters who were busy at the skills learning and health talk sessions.
Mrs Mojisola Ajimati proudly told the reporter her daughter is now a counselor, advising her peers in the neighbourhood and even helping to resolves issues.
"Our daughters here are more focused now. When they discuss among themselves, it is usually about what they are taught here at 9ja Girls," she told the reporter.
Mrs Bolalnle Falomo seems to have acquired some lessons too as she advised mothers to be open with their girls and tell them exactly about the happenings in the society instead of using coded language which may even lead to misinterpretations.
"Don't just tell them 'don't let a man touch you,' and she begins to run away from boys even when she's of marriageable age. They can be friendly with boys but let them know what is acceptable and what is not," she counseled.
Chief Mrs Temitope Peter,  the Baale's wife, is simply enthralled with the 9ja Girls project and the services at Agbelekale PHC.
"Thank God and the Society for Family Health for bringing 9ja girls to this community. Before, you will see girls just roaming about and some even get raped.  The situation has changed. They are fully engaged.  Now we mothers are smiling. My only wish is that there could be a similar program for the  boys too."
Indeed, for Hajia Fatima Bashir Muhammad's, SFH Project Director, Adolescent 360 Project, 9ja Girls has successfully fulfilled the goal of giving the adolescent girl a shoulder to lean on.
"These people (the adolescents) have vision. They also  have needs. They have so much energy and when mistakes happen during the adolescent years – pregnancy, drug use and so on – and nothing is done about it, that could be the end of their vision.
"Young people need information. And whether you give them or not, they will look for it. They will gather it together rightly or wrongly and put what they have learnt into action.  We've found girls who don't have boyfriends and don't have  sex tell their friends  'I have a boyfriend and I've slept with him,' just because they want to belong. They can't tell anyone how they really feel. They are very secretive"
Hajia Muhammad says this is why SFH gathered a team of researchers  made up of brain scientists, public health physicians, behavioral scientists, social marketers, community providers, religious leaders, teachers, community  leaders among others to develop the 'A 360' Project to address the peculiar needs of the adolescents. The goal is to break down barriers, equip them with information and also give them access to contraception when needed.
"What we did was to do a research that will help us to design a project that will be suitable for them.  How can we, in a rounded way, meet the needs of the adolescents? That's why it's called Adolescent 360."
The project is currently being implemented in two Local Governments in Lagos.
Experts warn developed countries against COVID-19 Nationalism Experts have warned developed countries currently overstocking the COVID-19 vaccine for exclusive vaccination of their citizens not to consider their shores safe from
In an unprecedented move to combat the growing incidence of death due to venous thromboembolism (VTE) in Nigeria, multinational pharmaceutical company, Sanofi, on Wednesday October 23, organized a scientific conference aimed at
An official of Lafarge Plc, the Ogun State-based cement company visited by the 44-year-old Italian who was diagnosed of Coronavirus, has provided  details about the man's visit to the company