World Food Day: Dietitian association advocates sensitization of food vendors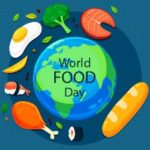 The Association of Nigerian Dietitian, and its Lagos State chapter have  called on governments at all levels to sensitise food vendors on how to handle, prepare and store foods to prevent outbreak of non-communicable diseases.
National Publicity Secretary, Nutrition Society of Nigeria, Mr Olusola Malomo, and President, Association of Nigerian Dietitian and Lagos State chapter, Mrs Jessie Nwankwo, made the plea in Lagos.
They spoke at an awareness programme to celebrate the 2019 World Food Day in Lagos.
The Day is commemorated on Oct.16 annually. It is set aside to celebrate the progress made toward zero hunger goals.
This year's theme was: "Our Actions are Our Future, Healthy Diets for a Zero Hunger World.''
In her remarks, Malomo said diets play a lot of roles in most of the non-communicable diseases today such as diabetes, hypertension, cancer, hyper cholesterol among others.
"All these diseases are food-related which means they are either from improper diet or inappropriate portion of foods and they have to do with the genesis of some of these diseases.
"Even, other factors can cause these diseases such as genetic and lifestyles, but we should know that diet play a major role in some of these diseases,'' he said.
Malomo, however, advised people to always eat their traditional nutritious foods such as water yam to reduce obesity and overweight among children and adults.
He said that nowadays, people were gradually gravitating from the traditional diets such as yam, local rice to nutrients drain dense food like pastries.
The nutritionist said that was why we came out to the public to celebrate the World Food Day and sensitise them on the prevalence of some of these diseases.
"Today, we will be demonstrating food items that can reduce or prevent some of these diseases.
"Some of our members from different hospitals in Lagos are displaying their food items and their nutrient values such as healthy drinks, smoothies, some local foods and fruits," he said.
Malomo said that food safety start from the market so people should ensure that the market places were clean and quality of the food and fruit items were good before buying.
Also, Nwankwo said that food safety and hygiene were more of advocacy and creating more awareness on right policy on food that would benefit individuals, government officials, society and the country.
"Nutritionists and food experts should team up with the environmental officials to checkmate foods being sold at market places in order to improve food hygiene and safety.
"We discover that some of the food vendors lack hygiene, especially the environment where they are selling their foods are always dirty.
"Government can also help by monitoring all the food vendors and give them the right information on how they can be cleaned with their foods," she said.
Nwankwo advised individuals to always identify their body system by visiting and registering at any registered and certified nutritionist at least twice in a year to prevent any form of diseases.
"Nutritionist will educate an individual on what healthy foods they can eat because some people always claim they know the right foods to eat.
"People should know that eating good food can guarantee healthy food, better future and wealthy living," Nwankwo said.
President Muhammadu Buhari today Sunday, March 29,  ordered the cessation of movement in the Federal Capital Territory (FCT), Lagos and Ogun states for 14 days as part of measures  to
● holds on August 20 – 24 ● also introduces diabetes and hypertension series for PHC practitoners Rainbow Specialist  Medical Centre, a private hospital with focus on the management of