Adewole appears before Senate
• Blames deteriorating health conditions on neglect of Primary health care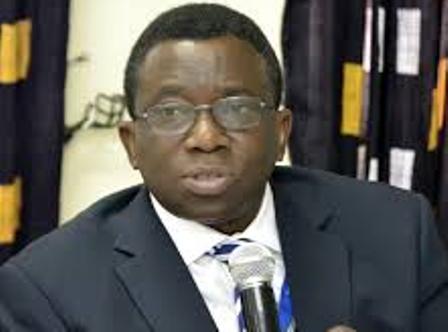 Prof. Adewole
The minister of Health, Professor Isaac Adewole, has appeared before the Senate to explain the deteriorating conditions of hospital facilities across the country.
The minister was summoned by the Senate following a motion by Senator David Umaru (APC-Niger) at plenary on Wednesday, May 8, 2019, to brief it on the current state of facilities and health care services in the teaching hospitals.
Introducing the minister to the House, Senate President Bukola Saraki said the lawmakers were concerned about the deteriorating conditions of facilities at teaching hospitals across the nation.
"We would give you the opportunity to take the floor to brief the Senate on the state of affairs of the Nigerian Teaching Hospitals. We are concerned with the deteriorating conditions of our hospital facilities across the country.
"Despite the annual budgetary allocation to the health sector, Nigerians are still dying because of obsolete equipment, the poor state of infrastructure, lack of generating sets, lack of power, sometimes lack of diesel, lack of drugs, etc which we are very concerned about.
"We will like to hear from you on what the true situation is, what solutions and measures you have to address the problem that is affecting the entire country and after that, we will take questions from my colleagues," Saraki said.
Responding, Adewole blamed the current situation on the "weak foundation" of the nation's health care delivery system.
"The problem we have is that the foundation is bad and the wall is weak and we are only concerned about the roof," he said.
He lamented that the nation had failed to invest in Primary Health Care which ordinarily should cater for a larger number of people.
"Only 10% of Nigerians who require care would need to go to tertiary institutions.
"For them (tertiary institutions) to function effectively, they depend on functional primary and secondary health care centres. If these two levels of care are functional, about 90% of ailments will be taken care of.
"For us in Nigeria, they represent the topmost and by design are expected to manage complex and complicated cases.
"We have 22 teaching hospitals in the country and 17 specialist hospitals under the direct body of the Federal Government.
"The teaching hospitals constitute the apex of health care in any country.
"If we invest in the Primary Health Care, a lot of people would not have a cause to go to the Tertiary. Teaching hospitals cannot survive alone and in isolation. The State needs to partner with us so that secondary hospitals would be working.
The Minister further told the Senators that only 22 states had registered to access the N55.15 billion earmarked for the Basic Health Care Provision Fund (BHCPF) meant for the nation's primary healthcare.
According to him, 14 others – Kebbi, Jigawa, Akwa Ibom, Cross River, Gombe, Rivers, Borno, Zamfara, Ondo, Benue, Taraba, Nasarawa, Ogun and Sokoto were yet to key in to the fund despite several attempts and his own personal efforts to get them to register.
Says daily intake reduces the risk of HIV from sex by 90% In order achieve  "zero level"  HIV/AIDS infections or keep it to the barest minimal in Nigeria, the
As the world today, Friday May 18, marks HIV Vaccine Day 2018, Nigerians, especially people living with HIV/AIDS believe the country has nothing to show the world in terms of
Says disabilities are not liabilities, but for development The Federal Government, through the National Health Insurance, NHIS, yesterday launched a community-based health insurance for disabled community, otherwise known as Disabled