Nigeria may attain polio-free status in next twelve months
If its current efforts are sustained

 No case recorded in 25 months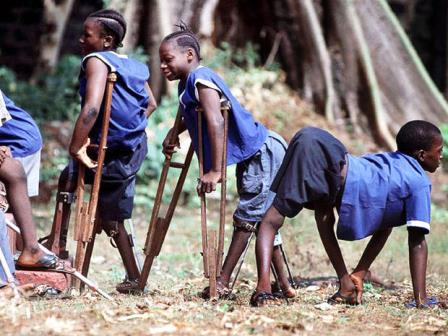 ABUJA – Executive Secretary, National Primary Health Care Development Agency (NPHCDA) Dr Faisal Shuaib, on Monday, October 29, at the 36th meeting of Expert Review Committee (ERC) on Polio Routine Immunization in Nigeria pledged that the nation would sustain and redouble its efforts.
He said being without the virus for 25 months showed the seriousness government attached to immunization.
He said of how close the nation is to being certified free of polio by the World Health Organization: "I will to say that for the very first time in our lives we are very close to polio eradication. We have gone over 25 months now with very strong surveillance showing clearly we are not missing one polio-virus case.
"And, if this positive result continues in the next eleven months, if we have access to those obscure areas such as Yobe state and some part of South-East, then it's very likely that the certification organization institution will review the progress that Nigeria has made and very likely they will certify us polio-free. That will be unprecedented declaration for all Nigerians, a situation where no single child is paralyzed in Nigeria of polio.
"It is actually true that if we are going to achieve polio eradication and sustained population immunity against polio-virus and other preventable diseases, we have to do a better job of providing all vaccines to all children in Nigeria."
He however said one of the greatest challenge countries still face was failure of parents to bring their kids to health facilities for immunization even in the urban centres.
"We need all parents to bring their children for them to have a full dose. On the part of government, we have gone the extra mile by providing a well trained and equipped mobile team, health workers across the 36 states to deliver the services.
"In the cause of the last few months, we are beginning to see gradual improvement in our routine immunization coverage."
He explained that recent study indicated that between 2016 till the time of the meeting, the nation had seen 10% increase in the routine immunization coverage.
He pledged that the government would leave no stone unturned to ensure every child in the nation is free of polio.
In his remarks, chairman, ERC, Prof Tomori Oyewole, pledged that the committee would work hard to prioritize polio fight including establishing emergency operations centres to coordinate vaccination campaigns and reach children in previously inaccessible areas.
Country Representative, World Health Organisation, Dr. Wondi Alemu, said Nigeria was making progress in accessing children and areas that were not hitherto reached. He said the number of unreached children was reducing.
He advised sustained efforts "will help us in expanding our reach in terms of administering vaccines and tracking down, if any, the circulation of wild polio virus."
According to him, sustained population immunity through routine immunisation remained key for polio eradication adding that the outbreak of cVDPV2 outbreaks pointed at gaps in immunity.
He also noted that ending polio would improve the fight against other diseases affecting children in the country.
Nigeria, Pakistan and Afghanistan are the remaining three countries with polio virus in the world, and Nigeria's certification will make Africa free of the scourge.
The Federation of Muslim Women Association in Nigeria (FOMWAN) in collaboration with the Partnership for Advocacy in Child and Family Health in Nigeria (PACFaH) have canvassed the cooperation of religious leaders in Lagos
Two experts from the Centers for Disease Control and Prevention are set to travel to Liberia to try to determine the cause of new Ebola cases confirmed last week, more
Humanitarian interventions in reconstructing the devastations in North East Nigeria will require at least $1bn in 2018 to address.  The fund is needed to meet some of the needs of