Worried by middle back pain
Being a civil servant with long sitting hours makes your mid-back or mid-thoracic susceptible to mid-thoracic or mid-back pain – Prof. Useh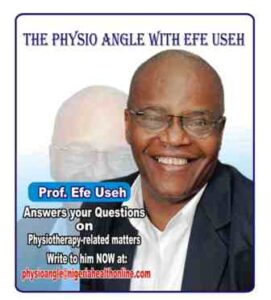 Dear Prof,
I feel pain in the middle of my back, which sometimes radiates to the right side of my chest. It is sometimes difficult to locate the exact position of the pain.  I am a 45-year civil servant and so worried because my father died of a heart attack. I hope this is not hereditary. I've consulted a few doctors and now was referred to a physiotherapist. How will this help me?
Kunle, Lagos
Dear Kunle,
Pain in the middle of the back is quite common among people whose job involves long sitting duration. We seldom refer to these jobs as sedentary because it involves staying and keeping in a position for such a long time. This is a common predisposing factor for mid-back pain. A sudden movement on the spine could result in a strain of the muscle of the mid-back. Long sitting also results in the weakness of these muscles. Muscle weakness is another risk factor for mid-thoracic or mid-back pain. Back muscles also undergo a lot of strain after assuming a posture for a long time. So, you most likely are suffering from mid-thoracic pain or mid-back pain. The thoracic bone is a set of twelve vertebrae bones just below the neck and above the lumbar or the lower waist bones.
Very limited movement occurs at the thoracic portion of the spine compared with the cervical (neck) and lumbar (the low back) bones. The thoracic cage is also seen as rigid compared with those of the neck and low back which allows movement forward, backward, and sideways. It provided support for the back side of the ribs. Very minimal transverse (lateral) movements occur within the spine. Therefore, a sudden and uncontrolled thrust or movement may result in localized and radiating pain to the chest wall. If the pain is felt on the left side of the chest, it may be mistaken as a heart problem Thoracic back pain is common throughout life and not commonly diagnosed as we do with neck pain or low back pain. Thoracic might be found in healthy individuals with or without any serious underlying cause.
Kunle, your job as a civil servant might make you susceptible to mid-thoracic pain. This is because the nature of your job places a lot of strain on your thoracic region due to the poor sitting habit of office chairs that we seldom work with. Thoracic back pain also occurs because of sudden injury of the back and from wear and tear of the bones from an inflammatory, degenerative, metabolic, infective, and abnormal mass of tissue (cancer). In addition, the most common cause of thoracic back pain appears to originate from, muscular irritation, lack of strength, poor posture, prolonged sitting at a computer, using a backpack that is heavily loaded, overuse injuries (such as repetitive motion), or trauma (such as a whiplash injury caused by a car accident or because of a sports injury). Being a civil servant with long sitting hours makes your mid-back or mid-thoracic susceptible to this type of condition.
The pain you feel on the right side of your chest wall is possibly due to pressure on the nerves that supply the muscles of the chest.  There is therefore no immediate cause for concern as the pain in this part of the chest wall is only felt on the right and not on the left, where we have our hearts. 
Physiotherapists treat thoracic spine pain with the following methods such as manipulation, heat, and therapeutic exercises. A few other handheld gadgets are also used for the treatment of thoracic pain. I will suggest that you visit the nearest government hospital for an assessment and treatment by a physiotherapist.
Best Wishes
The Nigeria Centre for Disease Control (NCDC) momentarily lost its path finding role in the ongoing COVID-19 crisis yesterday as it failed to work out the appropriate term to describe
A News Analysis By Ibukun Emiola News Agency of Nigeria (NAN) Most people are unmindful of the connections between nutrition and physical growth of their children, especially in Africa, heath
ABUJA: The Federal Government yesterday warned Nigerians against the use of unprescribed drugs, saying it is dangerous to health. The Minister of Health, Prof. Isaac Adewole, gave the warning at