'Twisted face' after long journey: Prof. Useh says it's Bell's palsy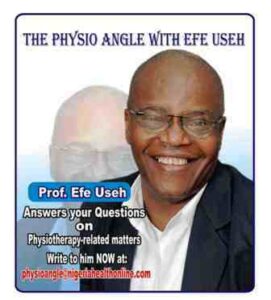 Dear Prof,
I am a 49-year-old man from Warri, Delta State of Nigeria. I woke up two months ago (after a long trip from Lagos) with pain on the right side of my face and with difficulty in closing my eye; it tears continuously. My mouth is tilted downwards and can't retain water when I attempt to drink. I consulted different health practitioners including spiritual healers and herbalists. One of them told me I was slapped by those in the spirit world. My doctor advised that I should consult a physiotherapist. What can I do now?
Mr. Henry  
Warri
Dear Henry,
You have Bell's palsy or facial nerve palsy. This is the weakness of facial muscles as a result of pressure on the nerve of the face that supplies the muscles of the face. Bell's palsy might not be permanent, but in rare cases, it does not disappear. Currently, there is no known cure for Bell's palsy; however, recovery usually begins 2 weeks to 6 months from the onset of the symptoms. Most people with Bell's palsy recover full facial strength and expression.
It is most likely that the wind must have blown continuously on the right side of your face during your long journey or the trip must have put pressure on the facial nerve, therefore, resulting in the weakness of the muscles of the face, including difficulty with swallowing, closing your right eye, and whistling. I can assure you have not been slapped by anyone or anything in the spirit world.  
Bell's palsy is an unexplained episode of facial muscle weakness or paralysis. It begins suddenly and worsens over 48 hours. Pain and discomfort usually occur on one side of the face or head. Bell's palsy can strike anyone at any age. It occurs most often in pregnant women, and people who have diabetes, influenza, a cold, or upper respiratory ailment. Bell's palsy affects men and women equally. It is less common before age 15 or after age 60.
The cause of Bell's palsy is not known. It is thought that it may be due to inflammation that is directed by the body's immune system against the nerve-controlling movement of the face.
Henry, you must have experienced all or some of the following signs as a result of the weakness of your face, inability to control the movement of the muscles that control facial expressions, such as smiling, squinting, blinking, or closing the eyelid, loss of feeling in the face, headache, tearing and drooling. You may also experience loss of the sense of taste on the front two-thirds of the tongue and unusual sensitivity to sound in your right ear. You've already indicated that you can't close your right eye. This is quite normal in Bell's Palsy.
Please protect your affected eye from drying up by using sunglasses. It is recommended that you consult your eye specialist for appropriate eye care and advice. Your physician will assist you with the appropriate medical treatment while your physiotherapist will assist in maintaining the integrity of the weak muscles by using the appropriate modalities including moist heat to relieve pain and some form of electrical current to stimulate the facial nerve that supplies the muscles of the face. You will also benefit from exercise treatment and biofeedback and special strapping or splinting of the muscles of the face.
Best Wishes.
The National Agency for Food Drugs Administration and Control (NAFDAC) has confiscated fake drugs worth N60millon from a warehouse in Lagos. This was contained in a press statement signed by
As the world marked another Women's Day on March 8, the United Nations Population Fund (UNFPA), disclosed that the world loses 800 pregnant women every day. Majority of the deaths occur
 Prof. Josiah Babatola of the Federal University of Technology, Akure (FUTA) has blamed inability of government to execute its policies and decision as a major cause of inadequate potable water.