Will physiotherapy help my painful knee, long distance driver asks
Prof Useh answers:
Yes, physiotherapy will provide treatments you need and is affordable

In your trips, observe rule of regular breaks. Stop every two hours to allow your knees to rest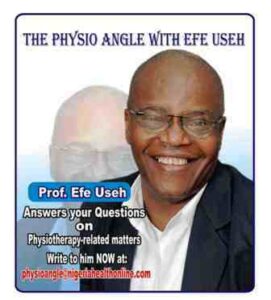 I am Mallam Tanko from Kano, a 55-year-old male Petrol Tank Driver. My knees have become painful and they are sometimes swollen. This has been on for over 5 years. Otherwise, I feel healthy in other parts of my body. I drive all over the country delivering petrol. My doctor says I have arthritis of the knees and that I need Physiotherapy. Can I afford one? Please help me.
Dear Tanko,
Yes, your doctor is quite correct. You need the services of a physiotherapist that will thoroughly examine you and both knees. Tanko, you can afford one. Many of our public hospitals including tertiary hospitals have physiotherapy units with physiotherapists who can assist you. I will suggest that you start from there and not a private practitioner.
You will also need a comprehensive assessment that will include X-rays of your knees (if you have not) to confirm this diagnosis. The nature of your job as a long-distance tank driver might hurt your knees (sometimes) if you do not observe the rules of regular breaks to stretch your legs. 
Tanko, arthritis of the knees results from wear and tear processes of the knee. We lose the natural cushions of the knee with age and overuse, therefore, causing what is generally referred to as arthritis. And your job as a long-distance tank driver is a contributory risk factor. The way to moderate this risk is through regular breaks during long trips. It is suggested that you look for a comfortable and a safe place to stop every two hours to allow your knees to rest. Please consult a physiotherapist at your base once you return home.
Physiotherapists provide treatments you may need when knee pain makes it hard to move around and do everyday tasks. These treatments may help you move better and relieve pain. The aim of physiotherapy is usually to improve muscle strength, flexibility, coordination, or general balance. Other forms of modalities could also be used for the management of your painful knees.
In addition, exercise can help to manage some of the symptoms of arthritis. You will benefit from advice and education on exercise, pain relief, and ways to manage your condition. You will also be taught different ways how you can improve your joint movement and walking. I will suggest that you start with very simple low-impact aerobic exercises that are easier on your joints. Examples of these are walking and bicycling. Try to work your way up to 150 minutes of moderately intense aerobic exercise per week. You can split that time into 10-minute blocks if that's easier on your joints.
You will also be assessed for appropriate knee support for your knees. These supports should not be too tight.
Best wishes
The National Agency for Food and Drug Administration and Control (NAFDAC) has raised alarm over the danger of a killer cough syrup, NATURCOLD. According to it's Director-General, Prof. Mojisola Adeyeye,
"Gender equality is a human right. Women are entitled to live in dignity and in freedom from want and fear, without discrimination. Gender equality is also vital to sustainable
As the world yesterday marked the World Contraception Day, WCD Family Planning, FP expert, Dr Ejike Orji says the uptake has continued to remain low because states and local governments