Rape: NAWOJ urges FG to expedite action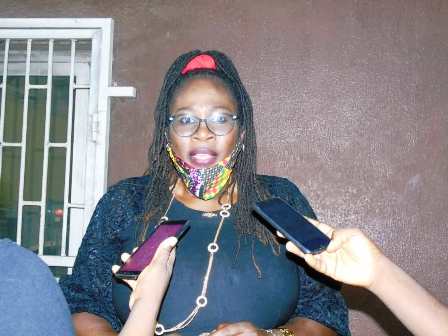 Comrade Adeola Ekine
Chairperson, NAWOJ Lagos
The Nigerian Association of Women Journalists, NAWOJ, has called on the federal government to expedite action on rape to end the menace.
The association made the appeal at its fourth day of a week long nationwide campaign against rape which it held to draw the attention of relevant stakeholders.
The nationwide campaign which has been holding online took a different dimension as members of the association in Lagos took a walk to Radio Lagos/EKO FM to sensitize the media on how to set the agenda towards ending rape.
Speaking after the walk, Chairperson, NAWOJ Lagos, Comrade Adeola Ekine said that media houses need to put the issues of violence against women in the front burner as it requires urgent and stiff actions.
Ekine explained that when the media is reporting about rape, it shouldn't be to further victimize the victim but to ensure that the perpetrator is brought to justice.
She also urged the parents to engage their children in proper sex education because that is the tool that most perpetrators use against them.
She said: "We need to talk to our children about sex education, talk to them about private parts and not give it another name.
"Most rapists act based on the ignorance of our children and threaten them not to speak up. If we converse with our children closely, we will be able to address most of the issues they are faced with," she added.
While receiving members of the association, General Manager Radio Lagos/EKO FM Mrs. Ayo Sotanwa, regrets the increase in the number of rape cases, adding that perpetrators are not justified regardless of the reasons for their actions.
Sotanwa said: "It's so sad, sickening and inhumane seeing what is going in our society today. All the excuses given for these actions are not tenable and regardless of the reasons, we say no to rape.
"We want the government to expedite action on rapists," she added.
The Managing Director,  Federal Neuro-Psychiatric Hospital, Enugu, Professor Monday Igwe, has said that one in every 24 adults is under severe mental disorder. The MD  stated this during a one-day
As part of efforts to ensure full recovery from trauma and ill health, the Lagos Government through the Ministry of Health has commenced general clinical follow-up and rehabilitation sessions
The National Agency for Food and  Drugs Administration and Control (NAFDAC) and the  Nigerian Bottling Company (NBC) said today they have appealed a court order directing NAFDAC to compel