CORONAVIRUS: WHO Emergency Committee urges countries to prepare for containment as death toll rises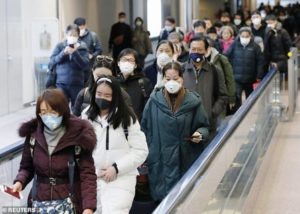 The World Health Organisation (WHO) Emergency Committee today Jan 23, urged countries to prepare for the containment, including active surveillance, early detection, isolation and case management, contact tracing and prevention of onward spread of the novel  Coronavirus (2019-nCoV infection) now spreading across the world.
So far, the organization confirmed that more than 500 people have been infected, and at least 17 people have died,  from the new virus said to be of the same family as SARS and the common cold.
The new coronavirus (known as 2019-nCoV) was first reported in Wuhan City, China, on 31 December 2019, and has since been detected in travellers to other countries.
The Nigeria Center for Disease Control, NCDC, Wednesday January 22,  issued a public alert, declaring that it is coordinating a multisectoral technical group that is assessing and managing the risk of importation of the virus  to Nigeria.
"NCDC is in close communication with the World Health Organization (WHO) who is closely monitoring the situation globally. WHO is in direct communication with the Government of China and other affected countries, and has released technical and travel guidance.
"The Port Health Services unit of the Federal Ministry of Health in Nigeria has been placed on alert and has heightened screening measures at the points of entry. In China, exit screening measures have been enhanced for travellers from Wuhan city at the Points of Entry (PoE) (airports and ground transport stations) since the 14th of January 2020. This includes temperature checks, combined with provision of information and masks to passengers with fever, as well as directing symptomatic passengers to health facilities for follow up.
"Nigerians are advised to remain calm. Travelers from Nigeria to Wuhan, China, are advised to avoid contact with sick people, animals (alive or dead), and animal markets.
"Travelers from Wuhan to Nigeria, may be asked questions upon arrival by the Port Health Services unit at points of entry about symptoms of illness and travel history, and are advised to report immediately to NCDC, if they feel ill after a trip to Wuhan.
On protection, the agency advised Nigerian to wash their hands regularly with soap under running water.
Cover your mouth and nose properly with handkerchief or tissue paper when sneezing and/or coughing. You may also cough into your elbow if a handkerchief is not available.
Avoid close contact with anyone showing symptoms of respiratory illness such as coughing and sneezing
Avoid self-medication, report to the nearest health facility when you experience any of the above-mentioned symptoms
Healthcare workers are always advised to observe standard infection prevention and control measures when   attending to patients and take a travel history..
The World Health Organisation (WHO) said it had deployed new technology that allowed for rapid diagnosis of Ebola virus in the Democratic Republic of the Congo (DRC). WHO said in
The National Agency for Food and Drug Administration and Control (NAFDAC) has raised alarm over the danger of a killer cough syrup, NATURCOLD. According to it's Director-General, Prof. Mojisola Adeyeye,
NMA demands unified lockdown, decries FG's poor handling of pandemic The Nigerian Medical Association has warned President Muhammadu Buhari-led government over the poor handling of the Coronavirus pandemic in the