Lagos records three new polio cases
• Commences house to house immunisation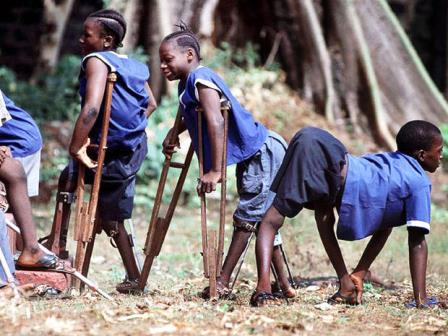 The Lagos State government today confirmed three new cases of polio in the state even as it admonished parents and guardian to present their children for immunization.
With this latest discovery of the virus in three locations in the state including Makoko, Itire, and Maracana, the government announced it will commence a 4-day house to house immunization for children aged zero to five years across from Saturday June 15 to Tuesday June 18. The event would be flagged off tomorrow.
Speaking during an interactive session with Health Correspondents in Lagos, the Permanent Secretary, Lagos State Ministry of Health, Dr. Titilayo Goncalves, said that the four-day campaign was to ensure that no child is left out.
"The immunization is safe and free. It can be taken in spite of former Immunization status and no child is safe from the vaccine preventable diseases until immunized," she said.
Also at the briefing, the Permanent Secretary, Lagos State Primary Health Care Board, Dr. Tayo Lawal described polio as a viral disease that is yet to be eradicated in Nigeria even though it is one of the major vaccine-preventable killer diseases of children under the age of five.
He said the only means of prevention of the disease is through the oral polio vaccination.
Lawal said: "As a State, tremendous progress has been made, in our drive to eradicate polio and drastically reduce the incidence of vaccine-preventable diseases and its attendant morbidity and mortality. We, therefore, exude optimism that we are on the home stretch of this marathon race against the public health disease called polio. However, we cannot and will not rest on our oars."
Also speaking, the representative of World Health Organisation, WHO, Dr. Fiona Braka, said Nigeria has made remarkable progress in the fight against polio stating that Nigeria is now 32 months without a wild polio virus.
"This outbreak we are facing is a different strain and we, therefore, must respond approximately. The goal of this outbreak response is to interrupt that virus. We can only achieve it if everyone works collectively to bring out children to get two drops of polio vaccine over the next for days," she said.
• Health Commissioner says all victims' samples were successfully matched with relatives' The Lagos State government yesterday released the result of the DNA Forensic investigation on the victims of June
The World Health Organization (WHO) has certified Paraguay as having eliminated malaria, the first country in the Americas to be granted this status since Cuba in 1973. "It gives me
Lagos State Commissioner for Health, Prof Akin Abayomi, has tested positive to coronavirus, the state Commissioner for Information and Strategy Gbenga Omotosho announced on Monday. "Subsequent to close contact with