Hygeia HMO Debuts 'Street Talk' in partnership with Rhythm 93.7 FM Lagos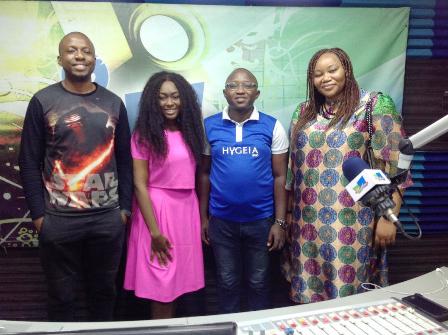 Hygeia and Rhythm 93.7 fm officials during the launch of the programme
To improve awareness on crucial health issues across the country by featuring rapid-fire questions and answers focused on overall health and well-being, Health Maintenance Organization, Hygeia HMO, has partnered with 'Health Vibes' on Rhythm 93.7fm to launch the vox pop focused on health and wellness.
According the partners, the 'Hygeia HMO Street Talk' vox pop is a weekly programme aimed at helping Nigerians with accurate information to healthy living.
Speaking on the project, Hygeia HMO CEO, Mr. Obinnia Abajue, said the project is driven by the company's mission which is to help Nigerians access quality healthcare affordably.
He said: "Nigerians need access to healthcare that is not only of good quality but affordable."
He added that Hygeia HMO recently introduced monthly healthcare payment plans and that they are also showing commitment to continue providing innovative solutions that will better impact the society at large.
Also speaking, Co-host Health Vibes, Kemi Olawoye, said Rhythm 93.7 fm Lagos 'Health Vibes' is a 30 minutes health and wellness show aimed at providing and equipping listeners with accurate information needed to live a healthy, wholesome and productive life.
She said: "Our vision is to be the foremost interactive mainstream radio show providing localized information on health and wellness in Nigeria. We are excited to introduce the Street Talk segment on the show in partnership with Hygeia HMO' Hygeia HMO.
Street Talk will air every Tuesday on Rhythm 93.7 fm Lagos from 3:30-4 pm
Sanofi connects African startups with new digital solutions to  healthcare Nigerian emerges as finalist No fewer than 50 African startups will pitch their digital solutions for effective health care
… Says outbreak not yet international Public Health Emergency The first meeting of the Emergency Committee convened by the WHO Director-General, on the Ebola Virus Disease (EVD) outbreak in the
… threatens Doctors' strike The Nigerian Medical Association (NMA) has warned the Federal Government not to yield to demands by the Joint Health Sector Unions (JOHESU) for a pay parity