Nigeria must do more to end HIV/AIDS , AHF, others tell FG
We are tired of government promises without action – PLWAS
Abuja –  The 
Global vision of ending HIV/AIDS pandemic by 2030 requires more contributions from Nigeria in terms of funding and promotion of other measures that would help the world defeat the scourge, the AIDS Health Care Foundation Nigeria (AHF), has said.
The organization stated these through its Coordinator for the Federal Capital Territory, Dr Kema Onu, at a sensitization walk to commemorate this year World AIDS Day in Abuja on Friday December 1, 2017.
Yhe first day of December has been set aside by United Nations for commemoration of the disease, worldwide.
While emphasizing that not only government, but all citizens alike should help in stopping the virus, Onu said AHF contributed to the country's HIV/AIDS response through various programmes in six states where the organization works in the country.
 

He said AHF offers "cutting-edge medicines, treatment, care and prevention services for persons living with HIV/AIDS. We've done a robust service in prevention. We carry out HIV testing services in hard-to-reach areas in Nigeria. We have a very robust condom programme. We have our own unique condoms that we distribute free. In fight against HIV, AHF has true advocacy measures," he said.
He explained that the organization was talking with government and other key stakeholders on the need to increase funding for HIV/AIDS programmes in Nigeria. According to him, in 2016, over 12 billion dollar was donated to HIV/AIDS campaigns through the Global Fund.
He said AHF had sustained campaign against discrimination and stigmatization against persons living with the virus in Nigeria.
He tasked the media, medical professionals, government and the entire nation on the need to keep working to bring the disease to an end. "If everybody plays its role, by 2030, Nigeria will be able to eradicate HIV/AIDS," Onu said.
Speaking with Nigeria Health Online at the programme, Executive Secretary of Civil Society for HIV/AIDS in Nigeria, Walter Ugwuocha, said Nigerian government contributes only five percent to national HIV/AIDS response, and should do more.
He said though there are signals of increased commitment from government to fight the disease, "currently, they are contributing five percent of resources we need to respond to HIV/AIDS. Out of the one million and fifty thousand on treatment, government is only responsible for 58,000 persons on treatment.

  

That is exactly five percent. That is what we are currently rating them. That is where they are.
"They've shown commitment in terms of increasing domestic resources in 2018, but that hasn't started yet. We do hope that would happen in 2018. At the UNGA, the President committed to placing additional 50,000 persons in treatment in 2018. We will wait to see that happen. That is what those of us in the civil society organizations and people living with HIV are holding him accountable for; to make sure that he fulfil the promise.
He said the disease is most prevalent among youths between the age of 15 and 24 years in Nigeria.
He also said Nigeria has capacity to produce antiretroviral drugs, even as he decried failure of the government to explore its opportunities to do so. "We have the pharmaceutical companies to produce drugs for treating people living with HIV/AIDS in Nigeria. We have the capacity, we have the resources. We have the personnel, we have everything it takes.
"2015, WHO and the United Nations Joint Programme on HIV/AIDS, UNAIDS, prequalified four Nigerian pharmaceutical companies to produce ARV. What is happening is that currently, there is no support from government to enable them to produce it and good patronage. That is what is happening, it is not as if we don't have it, we have all it takes," he stated.
Meanwhile, a member of Network of People Living with HIV/AIDS in Nigeria, NEPWHAN, Gloria Asukwo Ogodo, said government needed to do more to place over two millions persons living with the disease (who are yet to be placed on treatment) on treatment.
"If they are saying that they have over one million people on treatment, we should also have it at the back of our mind that sometimes ago, everything in the facility was free, but they later introduced money. That alone created challenges that some people failed to access the treatment, just because of the fee that was introduced.
"We should remember that there are over two million people out there that are not receiving treatment. What we know is that the government itself is not living up to its responsibility. We are expecting foreign donors to be donating to our country," Ogodo said.
Asked if she saw hope in what seems to be a renewed commitment from government, she said: "Yes, if only government makes good its promises. On Tuesday, government made a lot of promises. We are tired. Those of us living with the virus are tired. Each year, they come up and give promises, and at the end of the day, we see nothing being done. What we need is action."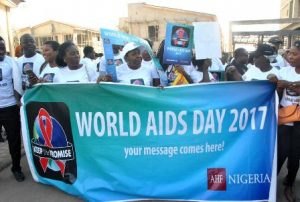 The National Primary Health Care Development Agency (NPHCDA) on Monday in Abuja, Nigeria's capital, received over 3 million single-shot COVID-19 vaccines donated by Italy. The country had earlier received 17
The National Agency for Food and Drug Administration and Control, NAFDAC, has reaffirmed that the agency has banned the importation of Indomie noodles into the country. The Director General of
• Says 45,000 children die annually from lack of hygiene globally The Water and Sanitation (WASH) Specialist for the United Nations Children Education Fund (UNICEF), Maina Banga, yesterday June 11,  identified