Nigerians more at risk of communicable diseases, antimicrobial resistance during flooding – FCT AMLSN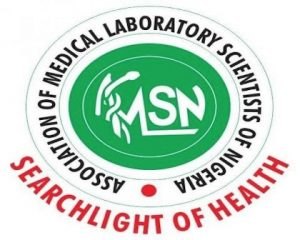 The Association of Medical Laboratory Scientists of Nigeria, (AMLSN) Abuja branch, has said that Nigerians are more at the risk of communicable diseases and antimicrobial resistance during flooding.
At a colloquium on flooding in Abuja on Thursday October 19, the group said recurrence of flooding in the country called for increased attention from both government and other citizens. The theme of the event was "Perennial Flooding in Nigeria: Communicable Diseases and Antimicrobial Resistance."
The gathering which had members of the National Assembly, heads of health-related agencies and other seasoned health professionals discussed the causes, preventive measures and tragedies that characterize flooding in Nigeria and other parts of the globe.
In his address, AMLSN Chairman in Abuja, Mr Ndubuisi Ebitea, said the association had taken a close look at the yearly rituals of flooding ravaging most parts of the country and the world, and realized the necessity of extending discussions or management of flooding beyond the routine forecasting, temporary evacuations and provision of relief materials to flood victims.
The major causes of communicable diseases in such disasters are due to contaminated water and food, respiratory infections, vector and insect-borne diseases and infections due to wounds and injuries, he said, citing diarrhoeal disease and acute respiratory infections as the highest causes of morbidity and death in such a situation.
"Our association is poised to avoid the hardship inherent in flooding. Our association is poised and ever willing to partner with the legislature, all ministries and agencies (NEMA, FEMA, NIMET, NESREA, NCDC etc) involved in managing emergencies, especially those caused by flooding. This collaboration can commence with the employment of medical laboratory scientists and the institution of strong medical laboratory services in these agencies.
"Also, the creation of the directorate of medical laboratory services in FCT is a major way of ensuring proper coordination of the medical laboratory component of dealing with communicable diseases…" he said.
The Senator representing Adamawa North, Binta Garba, also at the event, disclosed that  the National Assembly had come up with various laws and decisions that could help reduce the recurrence of flooding in the country.
"There are agencies that are saddled with the responsibility of telling us what will happen during the raining season. They keep telling the government that they should be on standby that such a disaster is moving towards Nigeria…
"All the agencies of government saddled with the responsibility of urbanization, construction should see that things are done adequately and properly so that we can get out of this. Today, it might be someone in the village, tomorrow it might be someone in the city," she said.
She recalled that America is a well-developed country, and that it witnessed flooding with catastrophic effects this year.
In his presentation, Chief Executive Officer, Nigeria Centre for Disease Control, Dr Chikwe Ihekweazu, listed some of the water pathogens that could be transmitted during flooding to include: Bacteria (E.coli, campylobacter, salmonella, leptospira, legionella) parasites (cryptosporidium, giardia, toxoplasmosis, cyclospora, naealeria) viruses (Hep A, polio, norovirus, rotavirus; and fungus: crptococcus, aspergillus, and harmful algae bloom.
He said water-borne pathogens in drinking water system could result in acute diarrhoea, bloody diarrhoea and gastroenteritis; typhoid fever, paratyphoid fever and other salmonellosis, chronic gastritis, ulcer disease and gastric cancer.
"Eradication of natural and man-made flood disasters seems to be the ultimate but may not be feasible in the short term, hence prevention through proper forecast by NIMET and preparedness by NEMA and its state organizations, the different states and communities appear to be the solution," he noted.
Paper presenter at the event, Bassey Enya Bassey (PHD) ranked  Nigeria  among top 20 countries exposed to coastal flooding.
He said at least 20 per cent of Nigerians, are at risk of one form of perennial or very perilous flooding or another.
Quoting the work published by Amangabra and Obenade, 2015; Egbenta, Udo, and  Otegbulu,2015, Bassey argued that Nigeria suffered combined losses of more than US$17 billion in damaged properties, oil production, agricul­tural and other losses due to flood events in 2012 alone.
He added that between 1985 to 2017, flooding in Nigeria affected more than 11 million people with more than two million others reckoned as internally displaced persons (IDPs) resulting in thousands of deaths.
He explained that flood-related mortality is greatest in populations with poor infrastructure and limited economic resources; thus, the impact of flooding in low- and middle-income countries is of particular concern, and is set to remain a major source of morbidity, mortality and economic loss in the coming decades , and that worldwide, between 1994 and 2013, floods accounted for 43% of all natural disasters, affected 2.4 billion people, and resulted in 160,000 deaths and US$636 billion in economic losses
Bassey appealed to government to expedite actions of policies that could prevent flooding, even as he advised people in the country to avoid actions that could invite flood.
Dear reader, Welcome to my world As we begin to age and become relatively less active, we experience different ailments that require different physiotherapy interventions. The joints of our knees,
Governor Babajide Sanwo-Olu, has ordered closure of all markets and  stores in Lagos state except those selling food, water, drugs and other essential life saving items  from Thursday 26th March,
The Joint Health Sector Unions (JOHESU) and the Assembly of Health Care Professional Association, AHPA, Thursday, declared an indefinite strike across the country. Members of the unions had trooped to