Monkeypox spreads to Akwa Ibom State
 Two infected persons recover in Bayelsa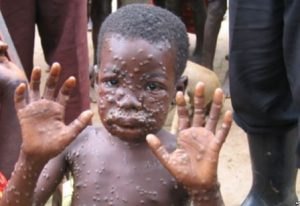 The Akwa Ibom State government on Sunday announced that monkeypox disease, first reported in neighbouring  Bayelsa State, has spread to the state.  .
Speaking in Uyo, the state capital, The Commissioner for Information in Akwa Ibom, Charles Udoh, said the affected person had been  quarantined while two other suspected cases were being monitored.
"Monkeypox currently has no treatment and no vaccine,"  Udoh said. "It looks like small pox but the rashes are larger while the disease is milder."
"The era of avoiding excessive handshake, regular hand-washing and abstinence from bush meat is here again.
"We will provide more information subsequently," the commissioner said.
With the reported outbreak of the virulent diseaset in the state, Akwa Ibom is now the third Niger Delta state affected after Bayelsa and Rivers.
Meanwhile, the  Bayelsa State government says  two of the infected persons in the state had been discharged  from the Niger Delta University Teaching Hospital (NDUTH ), Okolobiri, where they were quarantined.
"Two of the index cases and the medical doctor affected by the disease have since fully recovered and discharged."  Daniel Iworiso-Markson  the state Commissioner for Information announced  on Sunday.
– IARC Report reveals The International Agency for Research on Cancer (IARC), the cancer agency of the World Health Organization, has evaluated the carcinogenicity of the consumption of red meat
Lagos State Government has commenced a voluntary blood donation chain campaign tagged 'Each One Reach Ten' campaign aimed at evolving a lifesaving culture of voluntary blood donation to meet the growing
Unveils 110-Bed Mother Child Hospital  Lagos State Governor, Mr.Babajide Sanwo-Olu  has promised to construct a general hospital at Eti-Osa, one of the local government area in the state,  to serve