Health sector crisis worsens
NAFDAC,  NPHCDA staff, others shun work 
States health workers may join strike next week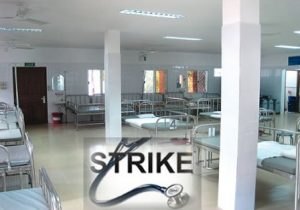 ABUJA  –  Nigeria's health systems may be heading for a major crisis in coming days as groups of workers in the sector down tools.
A strike declared by the Joint Health Workers Unions (JOHESU)  on Wednesday has been very effective across all federal hospitals in the country, consequently making health inaccessible at public hospitals and unaffordable to the poor in private hospitals where services remain uninterrupted.
In Abuja, where our correspondent monitored three tertiary hospitals in the city greatly feel the impacts. They are National Hospital, Federal Medical Centre (formerly Federal Staff Hospital) Jabi; and the University of Abuja Teaching Hospital, Gwagwalada.
At the FMC, Jabi, Nigeria Health Online saw only a few doctors on duty on Tuesday. "The nurses and other staff are not working. Only the doctors attended to us in the morning. We are still hoping they (doctors) come here this evening to attend to us," one of the patients at the male ward said at about 6pm on Thursday.
"I am not sure the management is accepting any new in-patient as you can see the whole premises virtually empty. We are more concerned about our in-patients and those at the Emergency Ward," one of the officials at the administrative office of the hospital who pleaded anonymity told this newspaper.
At the National Hospital sources confided in our correspondent that the hospital could not cope with the patients coming into the facilities. "We cannot cope, that is the truth. The nurses and other workers are not working. We have to refer some of these patients outside Abuja, especially those in critical conditions," the source who preferred anonymity said.
Meanwhile, there was a protest by workers of the National Agency for Food and Drugs Administration and Control (NAFDAC)  at the agency's headquarters in Abuja Friday morning.
The protest was organized by the agency's chapter of Medical and Health Workers Union of Nigeria (MHWUN).
Speaking with journalists, the Vice Chairman of the union, Idu Isua, said  the Health Minister,  NAFDAC management  and the  National Income, Wages and Salaries Commission  had, in 2013,  agreed to review members pay upward after their previous strikes but had not honoured the agreement since then.
"We resolved that funds be drawn from our internally-generated-revenue to finance the upward reviewed package of staff but to our greatest surprise, nothing was done since then. When we came on board as union in 2013, we took a look at the allowances of staff and discovered it was low compared with other agencies that we enjoy same salary scale with," Isua said.
The workers also demanded that  the Acting Director-General of the organization, Mrs Yetunde Oni should  resign, having allegedly attained 60 years of age.
However, efforts to reach Oni were unsuccessful as she was said to have travelled out of the country.
Similarly, staff of the National Primary Health Care Development Agency (NPHCDA)  have also suspended work.
When our correspondent visited the agency on Thursday, only the Executive Director and very few other top officials of the institution were allowed to enter the premises by he staff union who locked up the premises over the strike.
Their action followed directive by JOHESU that all health workers working in Federal Government health institutions suspend work.
Nigeria Health Online has also reliably gathered that health workers in all state-owned health institutions in the country will join the  ongoing strike by next week. The action will utterly affect health systems in the country, if eventually carried out.
JOHESU had last Wednesday directed all health workers in tertiary health institutions in the country to suspend work.
JOHESU comprises almost 95 percent of health workforce in the country, meaning their decision to suspend work at any time will cripple public hospitals. Some of the unions under the body are Medical and Health Workers Union of Nigeria, MHWUN; Association of Medical Laboratory Scientists of Nigeria, AMLSN;  NANNM; and Assembly of Health Care Professionals.
The Nigerian health workforce, comprising medical doctors, nurses, midwives, record officers, physiotherapists, medical laboratory scientists among others have a knack for alternating strike.
When a group proceeds on strike and government positively addresses its demands, others warm themselves up for a similar action. The government, on the other hand,  mostly yields to employees  demands only when they embark on a  strike, which is the last resort and seemingly the most effective tool for public servants in the country.
This time around, trouble began when the Federal Government had fruitful discussions with the National Association of Resident doctors (NARD) a fortnight ago, prompting the doctors to suspend their 10-day-old strike.
Few hours later, JOHESU emerged with its threat and sought audience with government, saying it would begin a nationwide strike, September 20 if the government failed to address its grievances.
In the health workers letter, titled "Looming Nationwide Industrial Action: Request for Audience,"  and signed by JOHESU's National Chairman, Joy Josiah, and its National Secretary, Ekpebor Florence , the groups required to have audience with the Senate President, Bukola Saraki and Speaker, House of Representatives, Hon Yakubu Dogara,  on Wednesday and Thursday September 20 and 21 respectively on their demands.
Last Tuesday, shortly before the meeting of JOHESU's leaders with the Minister of Health, the National Association of Nigeria Nurses and Midwives (NANNM) had met and discussed exhaustively on issues bordering on the nation's health care services, state of infrastructure, Nigeria health care policies and management, welfare of its members, among others.
The group, through its President, Nurse Abdulrafiu Adeniji, directed all its members to join the Wednesday strike, if government failed to meet its demands.
"The leadership of NANNM states expressly that it is in agreement with all JOHESU's positions on the recent 7-day ultimatum given to the Federal government to accede to all its lingering demands dated back to 2012," Adeniji said at a press briefing.
Demands of the group includes call for gazetting Unified Scheme of Services approved for nurses and midwives which recognizes the professional status of nursing, and the lateral conversion for those that have acquired Bachelor of Nursing Sciences (BNSc) and internship for fresh graduates of Nursing sciences; lack of equipment and medical consumables in health facilities across  the country which NANNM said was affecting the delivery of quality health care; tackling quackery in nursing profession.
Others are appointment of consultant cadre in nursing "in accordance with the laid down principles and in line with the National Industrial Court of Nigeria (NICN) judgment";  teaching allowance for deserving members; failure of government to pay uniform allowance for many years; skipping of CONHESS 10 and payment of arrears; and relativity arrears members.
The list also has rural allowance and failure of government at all levels in the country to raise budget for health care system to at least meet the African agreed standard of 15% budgetary allocation as contained in Abuja declaration of April, 2001 by Heads of States of African Union.
 Prof. Josiah Babatola of the Federal University of Technology, Akure (FUTA) has blamed inability of government to execute its policies and decision as a major cause of inadequate potable water.
Stroke Action Nigeria has partnered the World Stroke Organisation to take action, drive awareness and push for better access to stroke treatment in Nigeria as part of activities to mark