FG spends N4b on humanitarian projects in northeast
UNICEF decries increasing use of children as "human bombs" by Boko Haram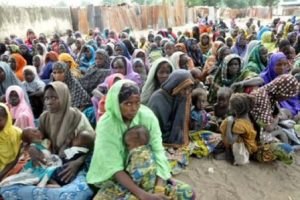 ABUJA – The Federal Government said it had spent over N4 billion 0n the  humanitarian crisis in the terror-ravaged Northeast.
The Minister of Health Prof. Isaac Adewole disclosed recently that the money was expended through his ministry.
Adewole made the revelation  during the Commemoration of the 2017 World Humanitarian Day in Abuja.
The fund, he said, was used in purchasing relief materials including drugs and medical consumables, hospital equipment, capacity building and deployment of volunteer health workers.
He informed that there was a Rapid Response Team tasked with the responsibility to develop a six month health and nutritional plan in Borno State to address the rapid decline in health and nutritional indices being experienced, adding that the plan was developed, approved, implemented and has  now been extended by another six months due to the giant strides achieved such as increased access to quality healthcare to communities.
He enumerated the achievements of the project which he said include diagnosis and treatment of about 15,000 cases of malaria in host communities and IDP camps; provision of about 4,000 women with family planning commodities in host communities and IDP camps; provision of quality ante-natal care to 14,355 women in host communities and IDP camps; and delivery of 1,100 babies through skilled birth attendants in host communities and IDP camps.
He added that a two-pronged approach was adopted solely to provide basic medical services to the affected population and strengthen the pillars of the region's health system.
The minister also affirmed that the Federal Ministry of Health had responded to the humanitarian situation by strengthening the Special Project Department and appointing a substantive Director to coordinate health related response to the on- going humanitarian crisis within the country.
He pointed out that the ongoing humanitarian crisis was unprecedented and protracted with Borno State as the epicentre, adding that a broad Northeast Health Sector  Humanitarian Crisis Response Strategic Plan (NEHSHRSP) was developed with a primary objective of repositioning the health system within the region.
He thanked all the humanitarian workers including the Nigeria security agencies providing care in all nooks and crannies of the country  and around the world.
He also prayed for the repose of the souls of the humanitarians who lost their lives most especially "our own Mr. Mustapha Modu, a staff of the Federal Ministry of Health and our gallant security officers who paid the ultimate price of sacrificing their lives for our great country."
Meanwhile, the United Nations Children Fund (UNICEF) has revealed that a record 83 children in Nigeria have been used as "human bombs" by Boko Haram terror group in Borno and other states experiencing bombardments in the northeast of Nigeria,
A statement from the organization in its New York office said 55 of the children were girls, most often under 15 years old.  27 of them were boys, and one was a baby strapped to a girl, said UNICEF.
"The sex of the baby used in the explosion was impossible to determine," the organization stated, noting that it is "extremely concerned about an appalling increase in the cruel and calculated use of children, especially girls, as 'human bombs' in (the) northeast."
It added that children had been used repeatedly in this way over the last few years and so far this year, the number of children used is already four times higher than it was for all of last year.
The agency said all of this is taking place in the context of a massive displacement and malnutrition crisis – "a combination that is also deadly for children.  There are 1.7 million people displaced by the insurgency in the northeast, 85 per cent of them in Borno State, where most of these attacks take place."
The organization lamented that use of children for bombing, describing, saying it is "an atrocity."
Children used as "human bombs" are, above all, victims, not perpetrators, according to the agency.
"The use of children in such attacks has had a further impact of creating suspicion and fear of children who have been released, rescued or escaped from Boko Haram. As a result, many children who have managed to get away from captivity face rejection when they try to reintegrate into their communities, compounding their suffering…
"Northeast Nigeria is one of four countries and regions facing the spectre of famine, with up to 450,000 children at risk of severe acute malnutrition this year.
"UNICEF is providing psychosocial support for children who have been held by Boko Haram and is also working with families and communities to foster the acceptance of children when they return. This includes providing social and economic reintegration support to the children and their families.
"UNICEF also supports reconciliation activities in northeast Nigeria, led by respected community and religious leaders, including influential women, to help promote tolerance, acceptance and reintegration."
The Association of Nigerian Dietitian, and its Lagos State chapter have  called on governments at all levels to sensitise food vendors on how to handle, prepare and store foods to
[L-R] Dr. Ene Obong, Director of Climate Change, MoH (representing the Honourable Minister of State for Health, Nigeria); CEO Nigeria Centre for Disease Control, Dr. Chikwe Ihekweazu; Chief Executive Officer,
The Federal Government and the National Association of Resident Doctors (NARD) have reached an agreement raising hope that the striking doctors may end their industrial action any moment from today.