Lagos rolls out free short-term health interventions
… jubilation as 60,000 residents benefit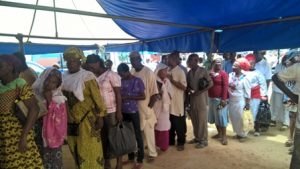 They came from different parts of the state with different ailments requiring medical attention.  But most of them  are walking back home with smiles and  commendations for the state  government for initiating a programme that is bringing succour to Lagos residents in dire need of medical attention.
Few days after the State Governor, Mr Akinwunmi Ambode officially flagged off the Lagos State free health programme tagged  "Eko Health Mission Programme"  many sick residents say their health is getting back on track.
For instance, Rachael Olabanji, a Senior Secondary 2 student who resides in Apapa area of Lagos could not hide her excitement as she read with the new pair of glasses she got during the exercise. Her poor eye sight had been a source of worry and she feared it might truncate her education. But the free health mission has restored her hope.
"I will like to show my gratitude to Governor Akinwumi Ambode for giving this pair of glasses to me. I went there because it was  becoming more difficult for me to read. I was told to come back today and here I am with a new pair of glasses," she enthused.
Indeed, for Alhaja Sherifat Azeez, a middle aged woman also residing in Apapa area of Lagos, life is worth living again. Before now, her health status has been so challenging because she did not have the financial muscle to face hospital authorities whether private or public hospitals to get drugs that could ameliorate all her health challenges.
Now, after an encounter with the medical team of Eko Health Mission Programme Alhaja Azeez, says she's got all the drugs she needs to be on her feet in sound health.
"I have been visiting hospitals and I could not get drugs for my ailment because I didn't have money but Governor Akinwumi Ambode has turned the situation around for me. I got a free body check and they also gave me the drugs for free. I am indeed truly grateful and I say thanks to Governor  Ambode," she said.
A young lady,  Blessing was all smiles as she narrated her experience. She told NHO the Eko Health Mission has not only relieved her of her nagging tooth ache but has also saved her a lot of money she would have sent at the private clinic.
"I suffered tooth ache for some time as  I didn't have the money for extraction. At a private hospital, I was told  I needed N7,000 to extract a tooth and would therefore need at least N14,000 for the two that were removed. Here, I did everything free of charge. Not only that, I went through proper body check, got a pair of glasses for my poor sight and even did HIV test, all at no cost.
"I am calling on everybody to come out to benefit from this initiative. I heard about it on Monday and I was here on Wednesday and I did everything on that same day without stress," Blessing said.
Like Blessing, Mrs Giwa Alake  was apparently full of gratitude to God and the  Governor for her ability to chew again.
"I appreciate the governor for this initiative. Now,  I brush my teeth without feeling any pain. Before now, I could not eat strong meat but that has changed.  May God bless our Governor," Mrs. Alake said.
                                  Blessing                                           Giwa                                                     Azeez
The government says more than 60,000 residents from seven Local Government and 12 Local Council Development Areas comprising Ojo, Oto-Awori, Iba, Badagry, Badagry-West, Olorunda, Oshodi, Isolo, Ejigbo, Amuwo-Odofin, Oriade, Ajeromi, Ifelodun, Apapa, Iganmu, Ikeja, Onigbongbo and Ojodu have a;lready benefitted from the Eko Health Mission programme.
According to Governor Akinwunmi Ambode, the medical intervention was sponsored by the state to provide free healthcare services to residents of Lagos across the 20 Local Governments areas and 37 Local Council Development Areas of the State.
Speaking at the official flag-off ceremony for the initiative at the New City Primary School, Palm Avenue, Mushin, the Governor  noted that the Eko Health Mission is in furtherance of his administration's objective to take health care to the grassroots and underserved areas in the State.
The Governor who was represented by his deputy, Dr. Idiat Oluranti Adebule explained that the programme was introduced as a strategic initiative and comprehensive medical outreach programme to complement the established healthcare system in the Lagos for the attainment of sustainable development goals.
He added that the health mission programme would avail residents the opportunity of being screened and managed for non-communicable diseases such as hypertension and diabetes, eye diseases and dental problems.
"I would like to enjoin all residents to take advantage of this opportunity to know their health status and receive treatment from our team of qualified medical personnel. These experts are equipped with the knowledge, skills and tools to provide the appropriate care you need by applying global best practices, ensuring equality and professionalism at all points of contact", the Governor said.
Ambode while commending members of the Health Mission team for their commitment to the success of the initiative said it is gratifying that beneficiaries of the programme include elderly, pregnant women and people living with disabilities.
Earlier, the State Commissioner for Health, Dr Jide Idris, while speaking on the importance of the programme noted that the State Government is continuously finding ways to improve the health status of its ever-increasing population adding that the plan for achieving this was based on the Health Policy Thrust of the State which is guided by the noble goal that every Lagosian enjoys unfettered access to qualitative healthcare without any barrier whatsoever.
Idris disclosed that the strategies adopted in implementing these policies  includes the introduction and provision of various programs that have direct impact on the health outcome of Lagosians stressing that these programs are geared towards promoting health, detecting diseases early and offering treatment and rehabilitation.
He posited that the overarching goal now is ensuring that residents have access to Universal Health Coverage adding that the Ministry of Health is working tirelessly to develop and implement strategies, programs, interventions and initiatives to improve the health outcome of all Lagosians.
"One of these interventions is the Eko Health Mission, which the State Government has used over the years to complement health service delivery in the state. This was put in place, as part of the State Government's quest to find ways to take healthcare to the grassroots and under served areas of Lagos State, by addressing pressing health issues of the rural communities in the state," the Commissioner said.
While noting the Health Missions are short-term interventions, Idris stated that the programme is geared towards the Strategic Development Plan of ensuring Universal Health Coverage adding that the Missions provide services that take health care to the doorsteps of its citizens at no cost to the people.
"These health missions are significant because they enable this administration to provide healthcare services to all who come irrespective of their age, gender, socioeconomic status and affiliations", he added.
The Commissioner while stating that services offered under the programme are provided free of charge, and included medication for presenting complaints, eye glasses and prompt referrals to the State Health Facilities, where necessary, noted that the medical teams providing these services are competent professionals committed to ensuring that the mandate of the state government is fully realized.
Idris stated that the vision of sustainable healthcare and universal coverage demanded that the State adopted an approach that was not only efficient, but also effective in addressing the growing health demand of Lagos megacity.
The Commissioner noted the Medical Mission will be carried out across the 20 Local Governments and 37 Local Council Development Areas for 3-days every week and will end on the 8th of June, 2017.
Lagos State Governor Babajide Sanwo-Olu has been infected with the dreaded Coronavirus disease (COVID-19). Professor Akin Abayomi, the State's Commissioner for Health made this known in a statement on Saturday.
The Vice-chairman of Benue State Action Committee on COVID-19, Prof. Godwin Achinge, has died of Coronavirus complications. The state Commissioner for Health and Human Services, Dr. Sunday Ongbabo, confirmed this
To increase the rate of exclusive breastfeeding in Lagos, private sectors as well as traditional birth attendants, (TBAs) have been charge to encourage pregnant and lactating mothers seeking health care