NAFDAC Briefing on recently arrested Food and Drug Counterfeiters and Fake Approvals Syndicate
PROTOCOLS
You are welcome to this press briefing which is intended to inform the general public about the recent activities of the Agency. The Agency in the past weeks has made several arrests and carried out investigations. Worthy of mention are:
You will recall that in time past NAFDAC in her unrelenting efforts have been parading unscrupulous individuals, engaged in the manufacturing, importation, and distribution of fake, counterfeit and unwholesome NAFDAC regulated products. It is sad at this press briefing to inform you that these criminals have shifted their method to forgery of documents and impersonation
1.CASE OF FORGERY OF NAFDAC DOCUMENTS, IMPERSONATION AND FRAUD
We received three different complaints from three countries about alleged impersonation and scam by some Nigerians that posed as NAFDAC staff to process some NAFDAC registration documents for intending importers of regulated products. The complaints were from the following sources:
The High Commission of Nigeria in New Delhi, India reported on behalf of a company called Bharti Phosphates.
Dr Yaser Dezhkam the Chief Executive Officer of Dr Haps company a German company and a manufacturer of pet food supplement.
One Mr. Akrem from Tunisia who wanted to confirm whether he should pay money to a company in Nigeria called Samjoe Ventures for the registration and shipment of 5,000 metric tons of calcium carbonate.
All the cases were diligently investigated and it was discovered that the three cases were hatched and executed by the same syndicate. This professional criminal group is an international gang headed by Mr Eze Okoronkwo, a Nigerian who is resident in Aba, Abia state. The other Nigerian collaborators are Mr Ndukwe Darlington Ukonu, Mr Nwabugo Okoro, Miss Ohanaokwu Chinonyen, and one Mr Smart who resides in India. Their Indian collaborators are Miss Kokula Hongva, Hoi Ching Suamtak, Tongso M. Anal and Aneng Mate. The other countries whose nationals allegedly collaborated and acted as brokers to the syndicate are the Philipines, Tunisia, El-Salvador, the US, Canada, Mauritania, Denmark, Mexico, Greece, Switzerland, Indonesia, and Republic of South Korea.
The syndicate had collected the sum of $13, 640. 00, while there were plans to collect further sum of $57, 720. 00. We believe this is a tip of the iceberg.
The mode of operation of the group involves the sourcing of brokers with Dollar or Euro account; with a promise that a broker will be entitled to 30% — 40% of the proceeds of the venture. They contact the companies thereafter through known websites — company or group websites, e.g. European Union-Distributors website. The victim is then gradually fleeced while being presented with fake documents. Some of the fake NAFDAC documents produced by this syndicate include:
ü Certificate of Registration, some bearing the forged signature of the acting Director General of NAFDAC, Mrs Yetunde O. Oni
ü Notification of Products approval. (NAFDAC document is "Notification of Product Registration")
ü Some documents with fake NAFDAC letter-headed papers purportedly issued by the Agency but which are actually none existent (i.e. The Agency does not issue any such documents).
Confirmation of file number for immediate issuance of NAFDAC certificates
Demand Proforma Invoice.
Other documents purported to have emanated from other Government Agencies and private firms include the following:
ü Certificate of Incorporation from the Corporate Affairs Commission
ü Tax payment receipt (with payment in US Dollars) from the Federal Inland Revenue Service
ü Payment receipt (with payment in US Dollars) from the Federal Ministry of Justice
ü Letter from the FCT High Court titled "Statutory affidavit of support for our NAFDAC registration"
ü Power of attorney
ü Payment verification form from non-existent Barclays Bank PLC, Lagos
ü Form M
Having established the illegal activities of the arrested persons as an economic crime and the Agency's collaborative efforts with other sister Agencies, the case will be transferred to the Economic and Financial Crimes Commission (EFCC) for further investigation and prosecution.
Forgery of NAFDAC documents by anybody, company or association will never be tolerated as it goes to the fundamentals of the Agency's operations.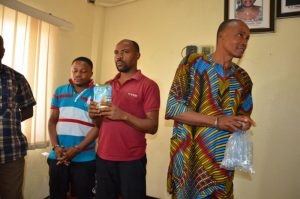 INVESTIGATION OF ILLEGAL PRODUCTION OF COUNTERFEIT ALCOHOLIC BEVERAGES BY MRS NKIRU OKORO OF EZEDAMS ENTERPRISES NIG. LTD., KM 16 BADAGRY EXPRESSWAY, OJO.
Following intelligence received on illegal production, distribution and sales of suspected counterfeit Alcoholic Beverages at the above mentioned address, the Agency carried out surveillance which led to a successful raid on the identified premises.
A thorough search of the facility led to the discovery of the following:
Several drums of Ethyl Alcohol
Rayner's Flavouring Agents
Unidentified chemicals in several jerry-cans
Packaging materials (packs, labels, hologram wraps and bottle caps/covers) of different types of alcohol were found in cartons and in sacks. The brands include Mc Dowell's, St-Remy, Eagle Schnapps, Elder's Aromatic Schnapps, Night Train & Express, 501 Original, Bacchus, Seaman's, Elliot Sprit, Chelsea and several others)
cartons of glass cups.
The facility has been sealed and investigation is on-going.
INVESTIGATION OF THE SALE OF SUSPECTED COUNTERFEIT PEAK MILK BY MR ONYEKACHI IKEGWUONU
Following intelligence received on a transport vehicle containing suspected counterfeit Peak Milk products bound for Lagos from the East, the Agency set up surveillance from about 4am on the 17th of February, 2017 which led to successful interception of the vehicle and its contents as it was arriving Lagos. Several cartons of the Peak Milk products (batch numbers 28 2C; PD 04:16; BB 12:17 suspected to be counterfeit were discovered and seized.
Further investigation led to the discovery and arrest of the owner, Mr Onyekachi Ikegwuonu. Investigation is on-going.
PRODUCTION OF FAKE WATER FOR INJECTION BY DANIEL EZEKWELU AT OJOTO VILLAGE, NNEWI ANAMBRA STATE
On 24th February 2017, Mr Daniel Ezekwelu was arrested by the Federal Task Force on Fake and Counterfeit for production of fake water for injection within two compounds at Ojoto village near Nnewi, Anambra state.
During the raid, two under aged girls were found filling and sealing the fake water for injection under the cover of Mr. Daniel Ezekwelu. The production takes place between 8:00am and 3:00 pm every day, while the finished products are transported to the market at night.
Items recovered include plastic containers, gas cylinders and packs of the fake water for injection labelled "Sterilised water for injection BP" with manufacturing date 2015 and expiry date 2020 and said to be produced by Hossanna Laboratories Limited, Surrey. The product is packed as 100 x 10ml vials.
The suspect made useful statement to the Police. Investigation is ongoing.
PRODUCTION OF FAKE CODRUX COUGH SYRUP BY MR. EJIKE OKEREKE
On 2nd February, 2017, one Mr. Ejike Okereke (M), 46 years old of St. James street Iyiowa, Onitsha was arrested for counterfeiting Codrux Cough Syrup. The original cough syrup is manufactured by Alben Pharmaceutical Company located in Onitsha. In the course of interrogation, he revealed that one Ifeanyi who is still at large approached him to counterfeit the product.
He stated that he received "Exploid" syrup from Ifeanyi, bought Ethanol and mixed them to form the counterfeit Codrux Syrup. He bought caps/ corks and contracted one Tobias to print Alben on the cap, while one Apollos printed the labels for the bottles.
He adulterated the product in his home town — Ihioma in Orlu L.G.A in Imo State. The counterfeiting was done between November and December last year. He was arrested when he came to deliver the product to Ifeanyi. He has been arraigned at the Federal High Court on a five count charge and remanded in prison custody till 11th April, 2017.
I can boldly say that NAFDAC is doing everything to ensure that only safe medicine and wholesome food of the right quality are sold to Nigerians. I would like to use this opportunity to solicit for the support of health practitioners, community leaders, religious leaders, the press and all stakeholders to continue to educate their wards and family members to desist from patronizing quacks and hawkers of medicines on the street.
We further advise consumers of NAFDAC regulated products to be watchful of drug, food and other regulated products they purchase and obtain receipt of payment for same. The general public should not hesitate to report any suspicious activities within their environment to the nearest NAFDAC office.
Finally I thank everyone that has partnered with NAFDAC. We still enlist your support in our quest to eradicate the incidence of Substandard/Spurious/Falsely Labelled/Falsified/Counterfeit (SSFFC) Medical Products, Unwholesome Processed Food and other regulated products.
Thank you
Mrs. Yetunde Oni
Ag. Director General
Nigeria is currently experiencing an outbreak of Cerebrospinal Meningitis (CSM) that has spread across the country and mostly affecting States in the upper parts of the country which fall within